Steps That Must be Completed When Dealing with Water Removal in Riverside
4/25/2022 (Permalink)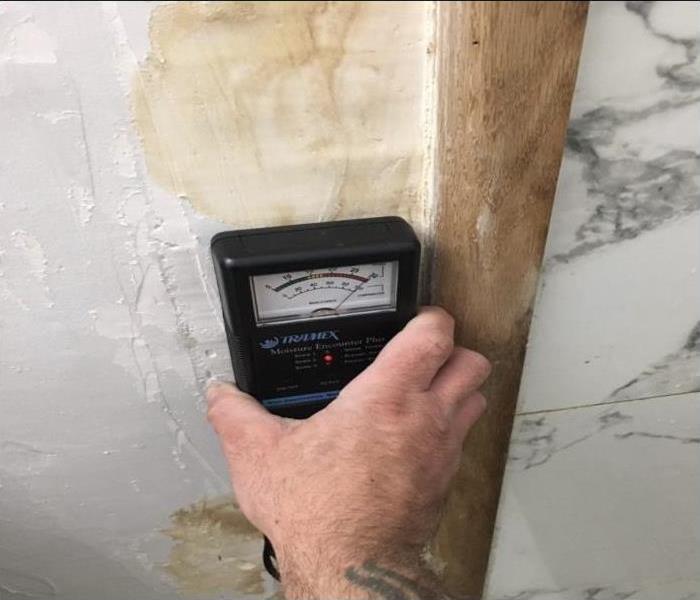 Our moisture reader on this Riverside home shows a high level of moisture within the walls. If you're not sure how bad the water damage is, call us!
SERVPRO Offers Swift, Professional Water Extraction to Mitigate Damages for your Riverside Home
Water damage might occur in your residence in Riverside when you least expect. It can be a shattering experience, and not too many individuals may know what to do when it happens. Note that it demands reaction as soon as possible to help reduce damage and salvage as much property as possible.
Homeowners in Riverside may not have the know-how to deal with water damage efficiently. You are better off working with professionals who have the training and equipment to extract the water and restore your home to its preloss condition.
SERVPRO is your go-to partners when seeking a reputable water damage restoration company that offers 24-hour emergency service and has the expertise and training to handle the removal and drying services. A Trusted Leader in the Restoration Industry, our SERVPRO technicians, can arrive swiftly to identify the source of moisture in your house. If the water intrusion is caused by a plumbing or appliance issue, we can attempt to shut-off the valve, preventing further water from spilling onto your home.
From here, our experts identify the category and classification of water damage. We do this to ensure that correct techniques are utilized that are based on industry guidelines. Contamination levels affect the restoration process. Many water issues do not soak large areas of possessions and building elements but require a vacuuming to mitigate damage and then the removal of lingering moisture.
Our SERVPRO WRT water damage restoration technicians move property contents and furniture from the affected areas to mitigate secondary damage. We also can block the items to prevent further stains, rust, and degradation. We inspect the carpet pad to determine if it can be salvaged or discarded. We try to restore rather than replace whenever possible. Depending on the extent of damage, experts may also utilize deodorizers and disinfectants as part of the treatment process.
Our SERVPRO crew typically discards non-salvageable items with the approval of the homeowner and if involved, the insurance adjuster. Our aim is complete customer satisfaction with our services. Our technicians go the extra mile.
Contact SERVPRO of West Riverside city anytime you need professionals to handle a water problem. We proudly serve Inland Empire and surrounding areas. Reach us at (951) 351-8033.