About SERVPRO of West Riverside City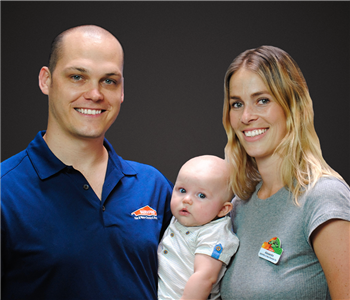 Christopher & Alexsandra Schmidt
Owners of SERVPRO of West Riverside City
Over five years ago, Christopher and Alexsandra Schmidt acquired SERVPRO of West Riverside City. Previously, Christopher worked as a Production Manager and Estimator for his parent's franchise, SERVPRO of East Riverside City, while Alexsandra ran the office, accounting duties, and handled some of the marketing. This opportunity greatly increased their knowledge of the business and gave them invaluable experience that motivated them to take on their own franchise. Over the last few years, Christopher has gained knowledge on how different aspects of the business should run, and how to do this effectively. He is certified in all areas of mitigation and restoration. As a working owner, Christopher has gained respect and admiration by being a "hands on owner", as he is present in the daily operations of the business.
Since the day it was acquired, SERVPRO of West Riverside has helped countless families and businesses recover from unexpected disasters.
Committed to Our Community
We serve our community beyond our cleanup and restoration services. We support local businesses by our participation in Riverside/Corona Executive Team. We support and participate in local causes that benefit first responders and charitable community organizations, such as March of Dimes. We also strive to educate our clients and customers through "lunch and learns" to increase knowledge of services offered.
We serve the people, the businesses and organizations of West Riverside that help make our community great.
Our local services include, but are not limited to: commercial and residential fire, smoke and soot damage, water restoration, mold mitigation and remediation, biohazard cleanup, deodorizing and much more.
Accidents happen and have to be dealt with, and homeowners have an easier time navigating through the cleanup process when they are talking to the least amount of people to get the project done. The least amount of people involved, the less they have to keep track of and, usually, the faster a project can move because those few people can better coordinate their schedules.
Working in the restoration industry isn't always easy. We meet people that are going through a difficult time every day, and we know the pain and stress they are going through. We have been asked to restore properties that have seen flooding, fires, trauma and unattended death, and crime scenes. We take everything that happens personally. We celebrate the successes and take opportunities for growth seriously. Our employees are our extended family. Just like a family, our group shares the good days and the bad.
Our mission is to develop a team of quality people who focus on excellent service, fairness and mutual respect. Our employees are uniformed, energetic, and ready to respond to emergencies. With initial and ongoing training and regular IICRC- industry certifications, our staff is equipped with the knowledge and experience to handle the restoration of your property. If you are curious and would like to learn more about our trained restoration personnel, please check out our Employee Profile page.
These certifications not only give our technicians the knowledge needed to perform these complex jobs but also allow us to continually stay up to date on the best practices in water restoration, fire restoration, mold remediation, carpet and upholstery cleaning, and other cleaning and restoration courses. All of these elements make us your number one choice when a disaster hits your home or business!
Why SERVPRO? / The SERVPRO Difference
When it comes to your family, no job is too large or too small! SERVPRO of West Riverside professionals strive to clean and restore your home and personal property quickly, allowing you to get back to living your life. We understands your situation. Your home has been damaged by fire or water, and things seem hopeless. We understand the stress and worry that comes with a disaster and the interruption it causes to your life and home. Our goal is to help minimize the disruption to your life and quickly make it "Like it never even happened."
Look for us to help even before you require cleanup or restoration services. Explore this site to discover the many ways you can reduce your exposure to property damage risks. Read our blog posts to gain objective, educational information. Some of our posts give you ways to handle emergencies. Others are checklists of items you can complete to better protect your home or business from damage. And this website gives you a good understanding of the broad array of ways we can help clean up and restore your home, commercial property, or business.
SERVPRO of West Riverside City provides emergency cleaning and restoration services 24 hours a day, 7 days a week, 365 days a year. We offer free inspections! Call us 951-351-8033 we are here to help!
License #1060935
B - General Building Contractor
D64 - Water/Fire/Mold Remediation
Insurance and Payment Information
For a stress free claims process, SERVPRO works with your insurance to help manage the insurance process and paperwork.
We also accept the following credit cards for your convenience:





Certifications
ASD - Applied Structural Drying Technician
ECTP - Employee Certification Training Program
IICRC Certified Firm
RRRP - Lead-Based Paint Activities and Renovation
WRT - Water Damage Restoration Technician
Affiliations
Department of Public Health
E-Team Business to Business Networking Group- Riverside Chapter
Environmental Protection Agency
Institute of Inspection, Cleaning and Restoration Certification – IICRC Certified Firm
National Institute of Decontamination Specialists
Riverside Chambers of Commerce