Do you Know the Difference Between Disaster Assistance vs. Flood Insurance?
10/14/2021 (Permalink)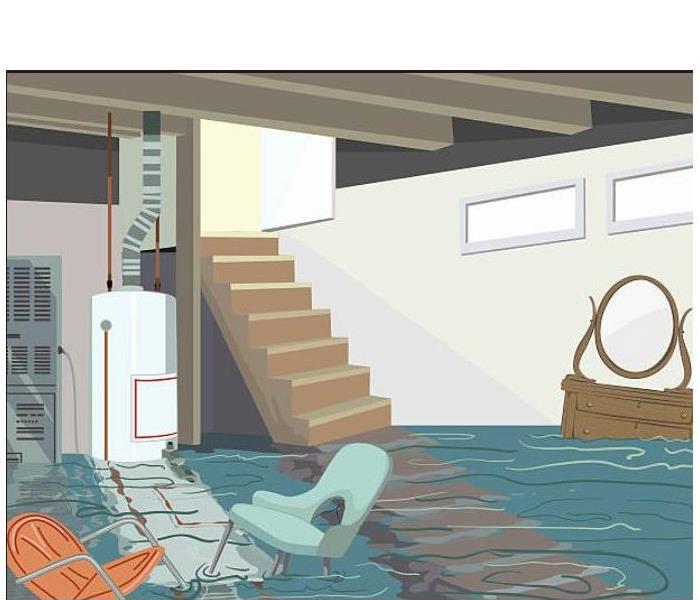 Flood insurance gives you peace of mind that you'll receive the maximum amount available to fully recover after a flood.
If you experience property damage during a flood, you'll likely be able to cover your recovery costs through disaster assistance funding—right? Possibly wrong.
In fact, federal disaster assistance isn't guaranteed, and many residents overestimate the amount of funding they'll receive (if any). As climate change worsens and residents face an increasing risk of damage from things like hurricanes, levee failures, and post-fire flooding, you'll want to make sure you're prepared. Take the first step by visiting FloodSmart.gov to learn how flood insurance can best protect you against the financial impact of flooding.
Ready.gov helps us understand five key differences between disaster assistance and flood insurance:
Disaster Declarations: Federal disaster assistance requires a Major Disaster Declaration from the president to authorize funding for FEMA's Individuals and Households Program. Flood insurance does not require a disaster declaration, so policyholders can make a claim almost immediately after any flood event.
Coverage: Both disaster assistance and flood insurance cover flood damage to your primary residence—but disaster assistance is only designed to make a home "safe, sanitary, and fit to occupy," not to restore it to pre-disaster condition. Disaster assistance can sometimes be used for additional expenses like vehicle repairs, temporary housing, or medical fees, but only flood insurance offers building and contents coverage that is customizable to meet your needs.
Payout: Federal disaster assistance often comes in the form of a FEMA disaster grant, which averages about $5,000 per household, or a Small Business Administration (SBA) loan. By comparison, the average flood insurance claim payment over the past five years was approximately $69,000. Unless purchased through a private vendor, flood insurance policies are backed by the National Flood Insurance Program (NFIP) . You will never need to repay the NFIP for your flood insurance, but certain forms of federal assistance, like SBA loans, must be repaid with interest.
Duplicative Expenses: FEMA cannot provide financial assistance when any other source—such as flood insurance—has already provided such assistance. For example, if your flood insurance company has already provided money for home repairs, you would not be able to receive additional disaster assistance for that claim; however, you could still receive FEMA disaster assistance to cover a separate, not-covered expense like vehicle damage.
Future Flooding: If you do receive disaster assistance after a flood, you may be required to purchase and maintain a flood insurance policy going forward in order to be eligible to receive aid for any future flooding events.
Flood insurance gives you peace of mind that you'll receive the maximum amount available to fully recover after a flood. Visit FloodSmart.gov to learn more about how to get started.