Emergency Preparedness, Ways to be Involved in Your Riverside Community
9/15/2021 (Permalink)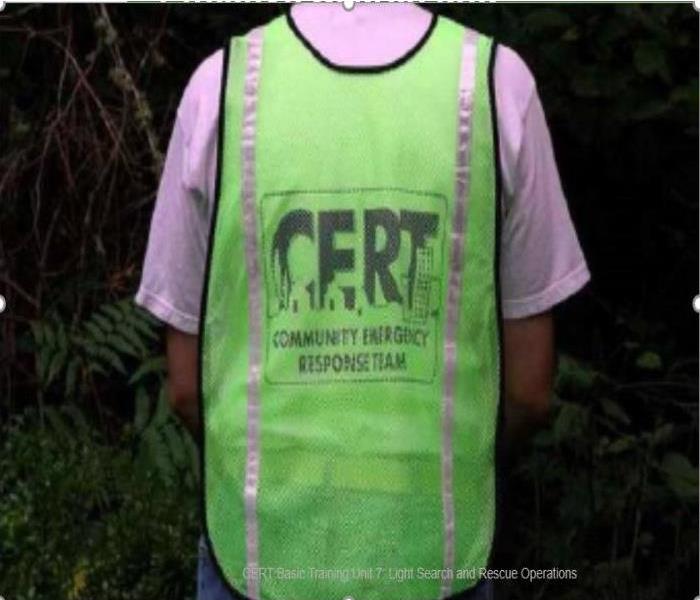 CERT members can assist others following an event when professional responders are not immediately available to help
Week 3 September 12-18: Low-Cost, No-Cost Preparedness
There are many great organizations and groups you can join that will allow you to help in your community during disasters, some of these are at no cost. Knowing you are able to help others is empowering and highly rewarding.
CPR
You can make a save a life by learning hands-only CPR.
Why Learn Hands-Only CPR:
80% occur at home – so the life you are most likely to help save is a family member or friend.
Sudden Cardiac Arrest is an electrical problem with the heart where it stops beating and pumping blood. That causes the brain to shut down, so the person suddenly collapses and is unconscious.
EMS can restart the heart using a defibrillator (AED) and/or medications – but take 5 or more minutes to arrive.
Hands-Only CPR can keep the heart and brain alive until EMS takes over.
Mouth-to-mouth breathing is not necessary – there is oxygen in the blood.
CERT-Community Emergency Response Team
CERT Program educates people about disaster preparedness for hazards that may impact their area and trains them in basic disaster response skills, such as fire safety, light search and rescue, team organization, and disaster medical operations.
Using the training learned in the classroom and during exercises, CERT members can assist others in their neighborhood or workplace following an event when professional responders are not immediately available to help.
CERT members also are encouraged to support emergency response agencies by taking a more active role in emergency preparedness projects in their community.
Visit RivCoCERT.org
You Are the Help Until Help Arrives
designed by FEMA, are trainings that can be taken online or in-person, where you learn through simple steps how to save a life before a professional arrives.
Learn five simple steps that may save a life
Call 9-1-1
Stay Safe
Stop the Bleeding
Position the Injured
Provide Comfort
Life-threatening emergencies can happen fast and emergency responders aren't always nearby.
You may be able to save a life by taking simple actions immediately.
You Are the Help Until Help Arrives.
Click on the links below to learn more about how you can help:
Set up Riverside Alert
Riverside Alert allows the City of Riverside to provide you with critical information quickly in a variety of situations, such as unexpected road closures, utility outages, missing persons and evacuations of buildings or neighborhoods.
You will receive time-sensitive messages wherever you specify, such as your home, mobile or business phones, email address, text messages and more. You pick where, you pick how.
The City of Riverside has launched a mass notification service that allows us to alert you in the case of an emergency. You opt-in to enter your contact information and subscribe to notifications you care about. The information you provide is protected and will not be used for any other purpose.
How it works
When we issue a notification about a potential safety hazard or concern, you will receive a message on the voice or text communication methods that you have selected. If requested for the notification, you can confirm that you have received the message and you will not be contacted by any subsequent methods regarding that particular notification. If you do not confirm, the system will continue to attempt to reach you at all of the contact paths that you have registered.
Sign up for notifications
Create an account and add your contact and location information into Riverside Alert. All information you provide will be kept strictly confidential.