How to Locate Hidden Water Leaks Before They Cause Severe Water Damage
8/18/2021 (Permalink)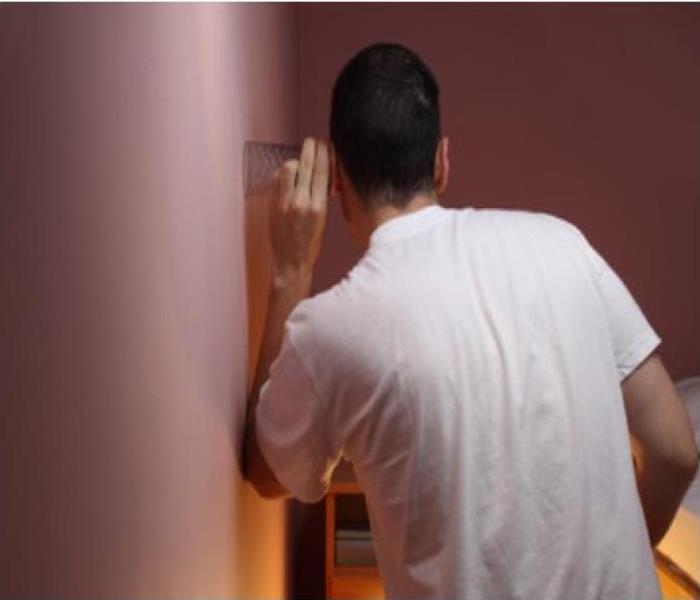 Vigilance is the best prevention for water damage. Knowing where to look and what to look for can detect many leaks before they get out of control
Finding water can sometimes be difficult. Water often travels the path of least resistance, which means water coming in from one area might enter your home in another area.
The water damage mitigation and restoration experts at SERVPRO of West Riverside City are the leading water damage restoration professionals in the Riverside area. A water leak that remains undetected and continues to leak for more than a short time can cause serious property damage. When homeowners or property managers suspect the presence of a water leak, there are several ways to detect the leak before it can do more damage.
SERVPRO of West Riverside City is sharing five tips on how to detect water leaks. Once the leaks are detected, homeowners can either fix the leak as a DIY project if the issue is easily resolved, or they can bring in a qualified, bonded and insured plumber to repair the leak. If the leak is inadequately repaired and not restored to professional standards, the problem could arise again in the future, causing another water damage disaster.
To repair the water-damaged areas of the home, the homeowner should secure the assistance of trained water damage restoration professionals who can safely, efficiently, and properly perform the restoration process. Water leaks that have persisted unnoticed for weeks, months, or even years can cause damage that compromises the structural integrity of the home. Rotted flooring, floor joists, or support beams require special expertise to repair or replace.
Long-term water leaks can also create serious health hazards. An undetected water leak can create a perfect environment for the growth of mold and mildew. In just a few days or weeks, a massive mold infestation can erupt, requiring extensive and expensive mold mitigation. A simple leak that could have been repaired for less than a $100 plumbing bill or for a few dollars in parts from the hardware store ends up costing thousands of dollars to remedy.
Here are the five important hidden water leak detection tips that can save the vigilant homeowner time, money, and stress.
Water leak detection tip #1: Monitor the monthly water bill.
Riverside Public Utilities is proud to serve a city of over 300,000 residents with high-quality water. Monitoring water usage does not require physically reading the meter by the road or sidewalk. Riverside residents can find all the information they need on their monthly water bill. Simply compare last month's usage with the current month's usage.
What constitutes a spike in water consumption?
Standard bath: 27 gallons
Ten-minute shower: 20 gallons
Leaky faucet: five gallons per day or 150-300 gallons per month
Broken or cracked pipe: As much as 500 gallons per hour
Garden hose left running at an outside faucet (5/8"): 1,000 gallons per hour
An extra bath or two or a long, hot shower after a hard day at work will not show up as a spike in the water usage total or the amount of the water bill. Watering the garden or yard a few times a week or leaving the outside faucet on all night will significantly increase the water bill.
A higher water bill with no known increase in usage signals a problem. At this point, the homeowner may need to run a water usage check at the meter. Make sure all the water in the home is turned off. If the installed meter has a leak indicator, watch for movement. Otherwise, take a meter reading and check back in an hour or two.
Water leak detection tip #2: Conduct a faucet inspection.
A worn rubber washer under the faucet handle is responsible for a portion of the one trillion gallons of water wasted due to household water leaks. The fix for the leak is simple: replace the rubber washer.
Water leak detection tip #3. Perform the toilet tank dye test.
Hundreds of gallons of water can be wasted by a leaking toilet. Remove the tank lid and add some food coloring or a dye tab. If the water in the bowl is still clear after thirty minutes, the system is leak-free. Replacing the flapper takes care of most leaks.
Having to jiggle the handle to stop the toilet from running may indicate that the flush bar and chain are sticking. The remedy may be adjusting the nut that holds the mechanism in place. In other cases, the handle may be so corroded it must be replaced. Plumbing can be intimidating to some homeowners, so do not hesitate to call a qualified plumber to address these simple maintenance issues. The cost of the repairs is worth the peace of mind and the money saved by stopping the leak.
Water leak detection tip #4: Perform a visual inspection of ceilings and walls.
Stains and discoloration on walls and ceilings can go unnoticed for quite a while because the evidence and damage occur so gradually. An infrequent guest may walk into the home and instantly spot the stain, discoloration, bubbled paint or wallpaper, or warping. When dusting or vacuuming, take a few seconds to inspect the walls and ceilings.
Water leak detection tip #5: Be aware of underground water leaks.
Outdoor water leaks may require expensive repairs. A broken pipe can add hundreds of dollars to a monthly water bill. Soft spots, darkened areas, and the smell of water may indicate a major outdoor water leak. If an area of the lawn is moist after many days of dry weather, the cause may be a water leak. Look for unexplained puddles or water flows next to the driveway or along the curb. If an outdoor water leak is suspected, contact the local water company for assistance. If the leak is outside of their coverage area, they can recommend a plumber.
Vigilance is the best prevention for severe water damage. Knowing where to look and what to look for can detect many leaks before they get out of control and cause a water damage disaster and a potential mold infestation.
Trust the water damage restoration experts at SERVPRO of West Riverside City for water, fire, storm, and commercial damage restoration. For more information about water damage restoration in Riverside, contact the office by phone at (951) 351-8033 or by email at office@SERVPROwestriverside.com