Our Water Damage Experts Can Save Delicate Items In Riverside Home
7/23/2021 (Permalink)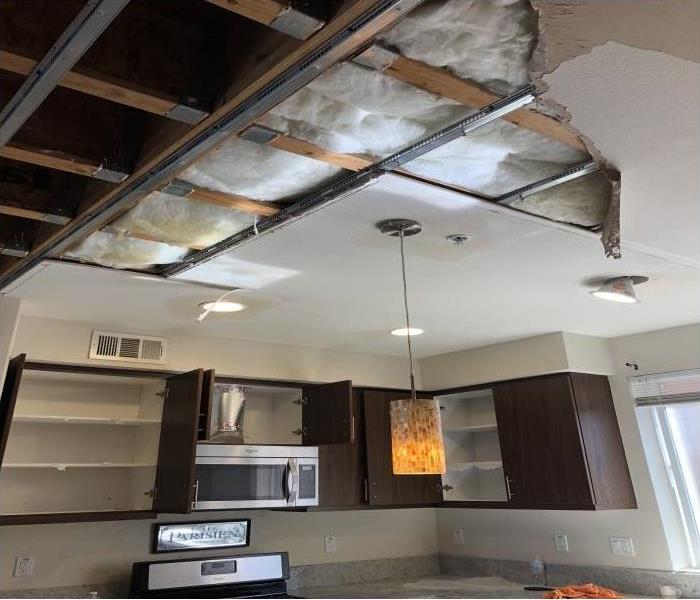 Water damage from sprinkler system wet the ceiling and caused the insulation to soak up water. Removal was done by SERVPRO of West Riverside City!
Saving Delicate Items Affected by Water Damage Incidents in Riverside
When there is a water spill, some items in the house are more prone to damage because of their structure and material composition. Some actions can help save the items if taken promptly after discovering water damage.
How Water Damages Carpets
If there is carpet in the area that was hit by water damage in your Riverside home, you might end up disposing of it if you do not take any action. Common problems include delaminating, whereby the backing separates from the rest of the material due to water action. Stains can also develop, especially if there are other items such as furniture resting on carpeted areas.
Saving Wet Carpets
Saving the carpet from water damage takes several actions, including removing items that can cause stains immediately after the spill. Our SERVPRO technicians expedite water extraction to reduce the exposure time using sophisticated equipment such as truck-mounted extractors and other high-speed pumps, which minimizes chances of delaminating. Depending on the amount of water spilled, we can do in-place drying. Floating the carpet helps ensure even drying on the bottom surface of the carpet, reducing the chances of mold developing.
Hardwood floor
Water spills on hardwood floors might necessitate replacement of the entire floor, which is quite costly. When wood absorbs significant amounts of water, it swells. Because they are tightly packed, the floorboards buckle at the joints to accommodate the swelling. Apart from reducing the time wood has to absorb water through fast extraction, our SERVPRO technicians also use specialized moisture control methods such as drying, setting up a drying chamber over the floor surface.
Wet Insulation
Wall materials such as drywall and insulation lose structural integrity when they absorb water. Drywall crumbles when wet, while insulation loses R-value. Although it is rarely possible to save these materials after they are wet, stopping the damage from spreading further from affected areas through wicking is necessary. Our water restoration crews from SERVPRO make flood cuts removing all the wet wall materials.
Quick action can help reduce losses incurred from water loss incidents.
Call SERVPRO of West Riverside at (951) 351-8033 to help save some items affected by the incident, "Like it never even happened."