How To Handle a Partial Loss Fire in Riverside
7/21/2021 (Permalink)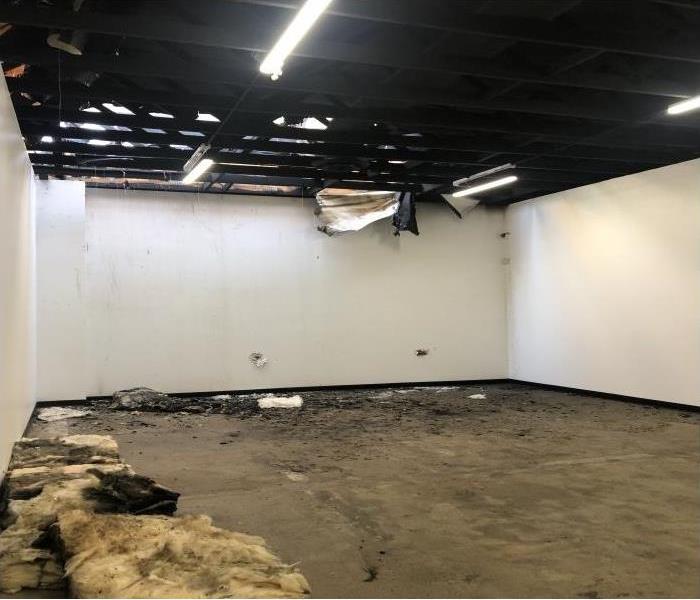 A fire caused smoke, soot and water damage to this commercial building in Jurupa. SERVPRO West Riverside made it, "Like it never even happened."
A "partial loss" fire is one that damages your commercial property, but doesn't completely destroy it. Before you file a claim, contact a fire restoration service to make a complete assessment of the property. Professionals may uncover damage that you might not notice at first glance. They can also give you an appraisal of what renovations need to take place to get your building back to normal. This information is helpful to your insurance adjuster when they visit your establishment.
What Problems Could Affect Your Insurance Claim?
It's critical to find a reputable fire crew in Riverside to help you through the process, otherwise, it could affect the amount of your settlement. Things to keep in mind include:
Improper cleaning methods - If the cleaning team doesn't use proper cleaning techniques in your fire restoration, your insurance may not cover additional cleaning in the future. An experienced crew removes smoke damage from the building, in addition to fire damaged materials.
Hidden damages - Fire loss includes more than just the damage caused by the fire. A trained professional knows where to look for hidden problems, including mold and ash. They will also check the air quality in the facility.
Insufficient repairs - An experienced technician understands that the repairs must return your building to a consistent appearance. This means that even if some materials weren't damaged if they don't fit the look of the new materials they must be replaced.
How Can You Make the Process Go Smoother?
Before your insurance adjuster arrives, make a list of every item that was destroyed in the fire or damaged by smoke or water. Take pictures of key items that must be replaced. Get quotes from construction crews with itemized details as well. All of these tips can speed up the process so that your claim is filed quicker.
Fire loss doesn't have to destroy your entire building to be devastating. Finding the right renovation service helps the process go much smoother.