Are Fireworks Legal in Riverside?
6/30/2021 (Permalink)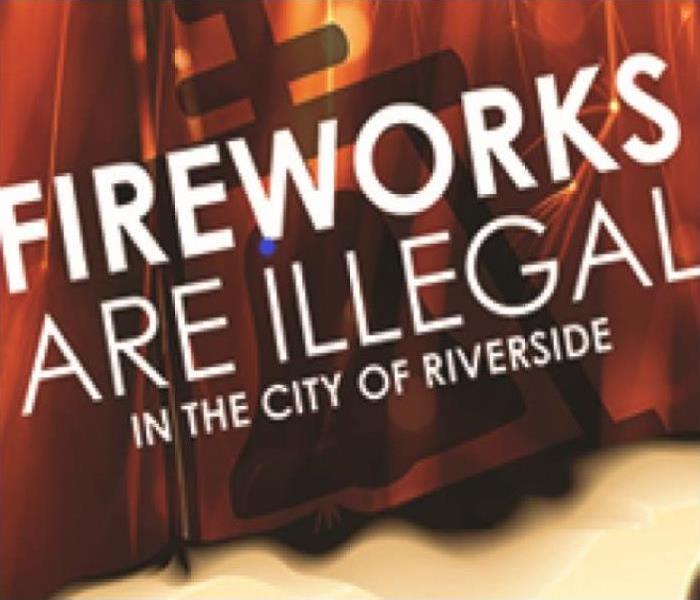 Fireworks cause injuries, spark fires that can endanger firefighters, creates stress for veterans with PTSD, and terrify animals.
Every year, about 10,000 people are treated for injuries in hospital emergency departments due to the mishandling of live, misfired and waste consumer fireworks - CPSC 2019 Fireworks Annual Report.
In addition, fires resulting from fireworks cause over $100 million in direct property damage- NFPA. Many U.S. cities are seeing a surge in consumer fireworks usage by the public in 2020.
With the July 4th holiday fast approaching, the City of Riverside is reminding residents that all fireworks are illegal within the city limits, and anyone found using illegal fireworks is subject to a $1,000 fine.
Riverside has been working for several years to reduce the usage of fireworks in the city. Fireworks cause injuries in adults and children, spark fires that can endanger firefighters and the public, create stress for veterans with PTSD, and terrify many animals. Just last year, the City of Riverside confiscated 3,856 pounds of fireworks, wrote 145 citations for fireworks, and received nearly 900 fireworks-related calls.
The City continually promotes an anti-fireworks message in hopes that residents will refrain from purchasing fireworks when they become available in neighboring counties shortly before the holiday. Websites, billboards, electronic parking meters all display the "Fireworks Are Illegal" message, and city officials are monitoring websites for fireworks being offered for sale.
City officials have sent warning letters to people who have received citations and to addresses that were identified as fireworks sites by people who called the City's 311 line. Calls to 311 regarding specific addresses where fireworks are being used can be made anonymously. RiversideCA.gov
In March 2021, approximately 20 miles from Riverside in the city of Ontario, a massive explosion from a large stash of fireworks took place. Two people and a dog were killed due to the explosion. It injured people and animals and damaged 80 homes.
What can we do to minimize fires and injuries from fireworks?
The best way to stay safe from fireworks is to not use them. Instead, attend a public fireworks display put on by professionals.
Fireworks are dangerous to people and pets. Using them puts your property at risk.
Hand-held sparklers burn at 1,200 F. Remember, wood ignites at 356 F and burns at 575 F.
Riverside county Sheriff's department, City of Riverside, and Riverside county Fire Department all urge:
ALL fireworks, including sparklers, are illegal in Riverside County.
All fireworks are illegal because they cause serious injuries and very often, cause fires.
Those caught with illegal fireworks will be subject to fines, citation and/or arrest; including confiscation of all illegal fireworks. We urge you to leave the fireworks to the professionals!