Why Should I Agree to a Pack-Out of My Riverside Home After a Fire?
3/31/2021 (Permalink)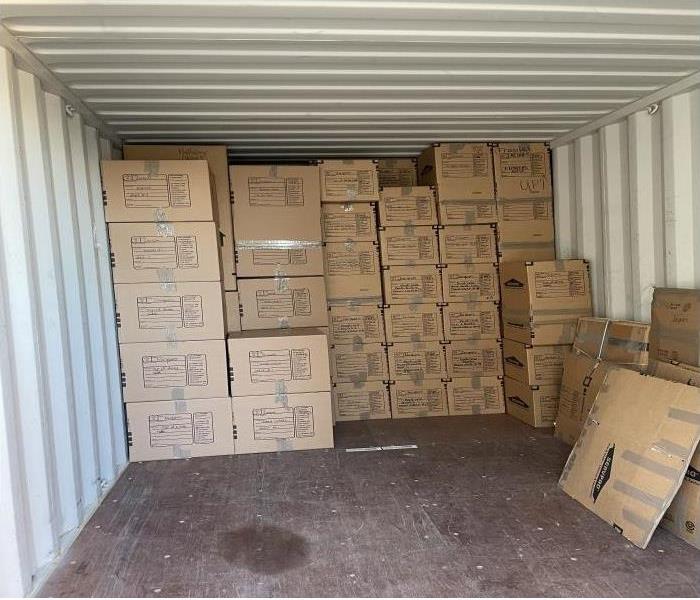 Removal of furniture and personal possessions allows our Technicians to focus on structural components and fixtures damaged by the fire.
Professional Pack-Outs Managed by SERVPRO Significantly Improve the Outcomes for Fire Damaged Riverside Residences and the Contents of the Homes
The aftermath of an Riverside household fire is hectic at best and often devastating for you and your family. Understandably, you feel panicked and out of control. When the restoration company you choose suggests a pack-out of most or all of your furnishings, household goods, and personal possessions, you might feel unsure, unwilling to allow what feels like an even more intense disrupting of your life.
What Is the Point of a Pack-Out?
Choosing pursuit of a partial or complete pack-out of the movable property in your fire damaged Riverside home has positive outcomes for both the items moved and the spaces cleared in your dwelling.
How Does a Pack Out Benefit the Items Moved?
The articles packed up and transported away from the fire damaged spaces in Riverside avoid additional harm from firefighting water and soot deposit.
Our home contents specialists assess the damage to each item and make recommendations based on our fire damage restoration resources, preventing you from the expense and emotional loss of discarding possessions we safely can bring back to function and appearance.
Your possessions are safe and secure in a storage area after restoration. The system we use to track the items allows us to locate and return individual items as you need them.
How Does a Pack Out Streamline Mitigation and Remediation Efforts in Your Home?
Removal of furniture and personal possessions allows our Water Damage Restoration Technicians (WRT) and Fire and Smoke Restoration Technicians (FSRT) to focus on structural components and fixtures damaged by the fire.
Moving out water and soot damaged items reduces the moisture, residue, and odor load in your home, increasing the effectiveness of the interventions our on-site technicians employ to manage these issues.
What Safeguards Are in Place to Account for Packed Out Articles?
Technicians use protective wrap on large pieces and sturdy boxes for loose, smaller articles. We encourage you to identify the things you might need returned as soon as possible after processing rather than when your home is ready to pack back, such as:
Particular types of clothing
Books and paperwork
Electronics
Tools and equipment
Treasured items, such as a child's favorite toy or blanket
What Happens During Processing of Fire Damaged Contents?
Every item is considered individually as its needs can vary from other damaged articles. Our employees assess each piece of packed out property to determine:
Characteristics of its materials--solid, permeable, washable, dry cleanable, colorfastness
Condition--previous damage, soil levels, moisture levels, noticeable odors
Types of soiling--oil-based, water-based
Evidence of mold, mildew, other microbial growth
We choose cleaning products and methods on an individualized basis, using our Institute of Inspection, Cleaning and Restoration Certification (IICRC) training and experience:
Technicians pre-test the efficacy of the selected product and method.
If pre-testing indicates the approach chosen is successful, we proceed to clean, dry, disinfect, and deodorize the items.
After processing, the items are packed and stored securely, awaiting the completion of on-site fire damage remediation at your home.
Does SERVPRO Help with Insurance Claims?
Many insurance companies suggest working with a reliable and reputable fire damage restoration company, and you might select us because of a recommendation from your carrier. The professional assessment our employees complete and updates recorded outline whether chosen interventions succeed in returning contents to preloss condition. This information forms the basis for your claims' coverage. Our documentation supports your requests for restoration compensation or replacement if we cannot restore an item to previous functionality.
Who Takes Responsibility for Reuniting the Processed Contents with My Fire Damage Restored Home?
Our protocol includes a professional pack back of your property when your dwelling is ready. The same care used when we moved items to our production facility makes the move back respectful and comprehensive. We appreciate how stressful the aftermath of a household fire feels and make every effort to streamline the process for you and your family as you return to your restored abode.
The team at SERVPRO of West Riverside City is ready to muster all our resources to transform your home and its contents to "Like it never even happened." Call us at (951) 351-8033 to begin the partnership with our experts that returns normalcy to your life after fire damage.