Identify These Water Issues Inside Your Commercial Building
1/6/2021 (Permalink)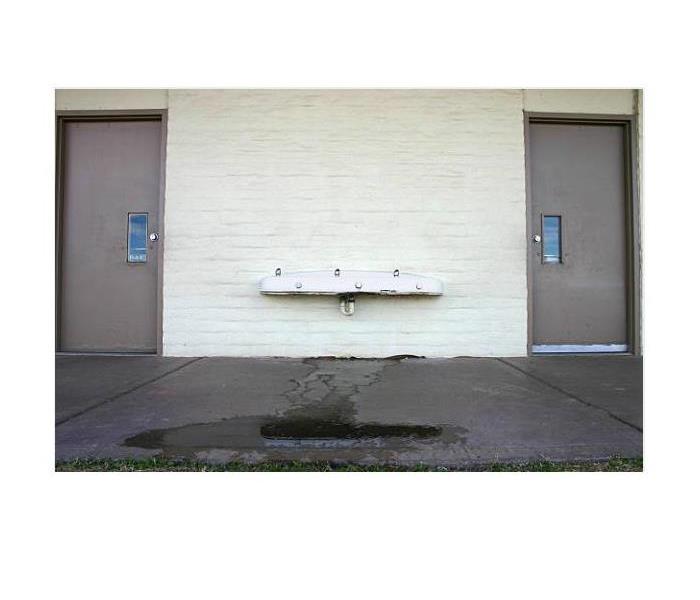 Check If You Have The Following Water Failures In Your Building
Water issues such as leaking pipes and clogged toilets can happen to any home in the Riverside, area. Unfortunately, these incidents also occur to rental units inside commercial property. These issues can escalate because there are multiple people using larger systems, which requires more inspections and maintenance. If you want to become a commercial property owner, expect to see the following water failures.
Clogged Pipes
The pipes throughout your building are designed to move enormous amounts of wastewater and resist strong conditions. Unfortunately, they can still become overwhelmed and clogged. Hair, fat, soap and other contents that accumulate over time are the most likely culprits behind clogs or toilet backup. Mineral elements can also gradually build up over wet surfaces to create blockage. If the system is running underground, tree roots can seek the sewer water, eventually clogging up the pipes.
Leaking System
Due to the extensive and complex nature of commercial property plumbing, leaking pipes, faucets and toilets are recurring problems. These systems can wear down and create vulnerable spots that leak. Even though the damage seems small, it can deteriorate into larger malfunctions and property damage. Leaks also signal greater plumbing issues that can be stopped early. Call a plumbing technician to fix the issue and an emergency remediation service to deal with the water damage.
Damaged Plumbing
Besides untreated leaks, there are other causes of damaged and broken pipes. For example, the higher pressure inside the plumbing system during winter can result in a pipe break. Additionally, tree root growth, improper maintenance and excessive clogging can also result in breaks. If the pipes are too old, they can suffer from corrosion, making them fragile and vulnerable. Schedule proper maintenance and contact professionals if tenants detect leaks and other issues.
Commercial building owners deal with the same issues as those who own singular homes. Broken or leaking pipes, clogs and other issues appear on a larger scale, so it is important for you to get help immediately.
You can count on SERVPRO of West Riverside City. We can also help with a free Emergency Response Profile (ERP) to help identify where water shut-off valves are to minimize water damage. It's a free APP that can include any type of information needed during a potential disaster. Call us for a free inspection and we can go over the ERP with you!
What is the SERVPRO ERP?
SERVPRO's ERP is a system that helps businesses create a readiness profile for all of their locations to be prepared for any disaster. The ERP helps business owners create an Emergency READY Profile (ERP) for their facility, at no charge. The business owner works with SERVPRO to gather and document information that will become critical if a disaster strikes. It allows business owners to create customized, pre-organized profiles of their properties and locations so that in case of a disaster, we have access to any relevant documents and information immediately Once the ERP is created, business owners have access to their information 24/7 online and by using SERVPRO's free smartphone app, creating a comprehensive emergency plan for the business. A comprehensive emergency plan contains critical information about the location of shut-off valves, fire suppression system controls, emergency contact numbers and more—information that can save emergency responders precious time and help contain damage and minimize injury.
The SERVPRO ERP Creates Faster Responses
With a profile in the ERP system, we can respond to your business emergency faster much quicker than if you had contacted us by phone. The system allows your call to be simplified to the press of a button, saving valuable time otherwise spent searching for phone numbers, relevant documents, and communicating the situation to us. Whether your emergency is water, fire or flooding, the ERP gets us out to your business faster, which can help minimize damage with faster reaction to the emergency.
Our ERP Priority Response
Some events, such as flash flooding, may hit many buildings and neighborhoods at once. This can cause resources to get tied up quickly, and we may have to delay our response to some inquiries. With the ERP system, you can avoid having to contact a representative and get your request in before others around you. The ERP app gives you priority response to any damage emergency you have. We're dispatched faster to your location to start handling your issue right away.
More Effective Responses with Prior Knowledge
Having critical information such as breaker locations, water lines placement, floor plans, and inventories allow our trained technicians to do their work with unmatched efficiency. By giving us a wealth of information ahead of time, businesses help to ensure that any SERVPRO teams working on your business can better understand what they are working with and the job they are doing, without wasting precious time locations breaker boxes, lines, etc.
Multi-Location Management Damage Control
Many companies operate multiple locations, some of which may be damaged in an event while others remain unscathed or encounter different problems, depending on the situation. The SERVPRO ERP system allows businesses to create separate profiles for each business location, eliminating confusion and ensuring that more severely damaged locations are treated first.
Damage of any kind can impact a business. SERVPRO of West Riverside City is ready to respond to your company's needs 24/7. If water, storm, flood, or fire damage has impacted one or more of your locations, or if you would like to learn more about our ERP system, call us at
SERVPRO of West Riverside City
951-351-8033