Inland Empire Death Scene Clean-Up: A Tough Subject
11/16/2020 (Permalink)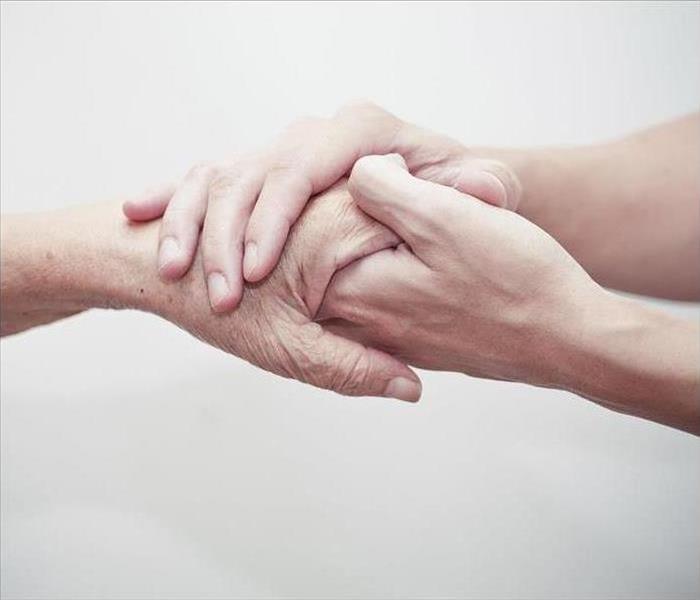 Families are impacted with the death of a loved one and sometimes don't know where to turn when that death happens in a home.
I debated writing this blog for quite some time. But this week we received a call from a Property Management company, and it hit me that even though it's not the easiest topic to discuss, it is worth the discussion. Families are impacted with the death of a loved one and sometimes don't know where to turn when that death happens in a home.
The clean-up that is needed after an unattended death is not easy to write about and is definitely not something a sales or marketing person wants to talk about. I have never personally experienced a suicide of anyone close to me and I can't imagine the anguish a family goes through as they process that death is debilitating. The clean-up afterward can obviously prove too traumatic for a family to perform. The same can be said when an elderly loved one dies alone. Body decomposition, though natural, is very hazardous to anyone in and or around the area.
Cleaning up can be emotionally challenging, not to mention dangerous if blood and/or other bodily fluids are involved. Our team at SERVPRO of West Riverside City will treat the family and their loved one's property with the greatest empathy. Our goal after a death is to remove the burden of cleaning up by those family members left behind.
Many times, our own team is impacted with strong feelings or reactions to the death, despite having no acquaintance with the victim. Our team has the training and experience to stay focused on the unique nature of their cleaning task. They are cleaning and restoring the site of the traumatic event. They are preforming an invaluable service to the customer. Our hope, is that our clean-up process will help the customer recover in a small way from the aftermath of the loss of life.
Many people don't realize that insurance policies often offer coverage for crime scene and trauma cleaning, so it's crucial to check with the insurance policy adjuster to determine if coverage is offered.
All these are reasons why I feel it's important to write this blog. Helping a family in their time of need by responding 24 hours a day, 365 days a year to help them restore their lives is of the utmost importance to us.
While we hope that you never have to experience a death that needs Biohazard Clean-up, we do want to let you know that there are experts out there who will help if ever the need arises.
Need help? (951) 351-8033
Why Reach out to SERVPRO?
Exposure to biological and chemical contaminants can pose serious health consequences. A failure to properly remove such substances can contribute to unhealthy and dangerous environments. SERVPRO of West Riverside City is trained to safely clean and remove biohazardous substances and dispose of them properly in accordance with OSHA and health regulations.
Equipped with the necessary safety apparatus and cleaning products, SERVPRO Franchise Professionals are here to help transform any unsafe environments back into clean, safe homes and offices.
Please refer to our Biohazard Emergency Tips - Until Help Arrives Guide and follow these tips to protect yourself and your property.
The decontamination of a home or business due to trauma, sewage backups, chemical spills, hoarding, or other biohazards can be both dangerous and emotional. Specialized training and experience is key when choosing a cleanup company to resolve these circumstances.
Certified: SERVPRO Cleaned
The COVID-19 pandemic has changed what it means to be clean. SERVPRO has developed the Certified: SERVPRO Cleaned program, a specialized cleaning program that goes well beyond janitorial or carpet cleaning, providing a proactive viral pathogen cleaning service. Learn more about the Certified: SERVPRO Cleaned program to safeguard your customers and employees.
The SERVPRO Franchise Professionals provide cleanup and recovery services for many biohazard situations. These include the following:
Suicide/death accidents
Homicide cleanups
Blood cleanup
Accident cleanup
Hoarding scenes
Animal waste/remains
Chemical spills
Tear gas cleanup
Meth lab cleanup