Fire Prevention Week- A little Cooking…a Little History
10/3/2020 (Permalink)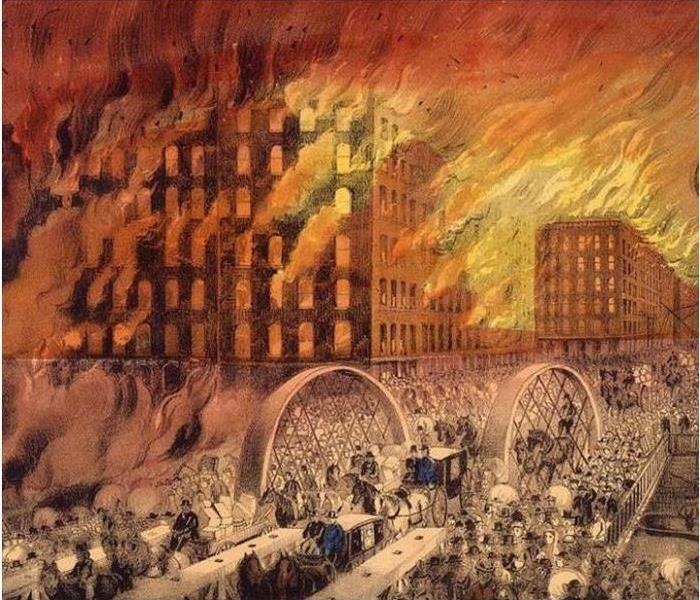 Fire Prevention Week is observed each year during the week of October 9th in commemoration of the Great Chicago Fire
The cooking and baking season is just around the corner. In order to avoid a ruined holiday, follow the advice below!
Families gather to celebrate the holidays by preparing a delicious feast, but if you don't practice safe cooking habits, your holiday could become hazardous very quickly. According to the National Fire Protection Association, cooking fires are the number one cause of home fires and home injuries.
The leading cause of fires in the kitchen is unattended cooking.
Did you know?
Cooking is the #1 cause of home fires and home fire injuries. Unattended cooking is the leading cause of fires in the kitchen. Follow these tips from NFPA
Recipe for safety
Before you serve a meal, it's essential to serve up fire safety in the kitchen. There's nothing like spending time in the kitchen cooking a delicious meal for family and friends or an appetizing treat for yourself. But do you know the important steps to take long before anyone takes the first bite?
Cooking
• Cooking is the leading cause of home fires and home fire injuries. Thanksgiving is the leading day for fires involving cooking equipment.
• The leading cause of fires in the kitchen is unattended cooking.
• Stay in the kitchen when you are frying, boiling, grilling, or broiling food.
• If you are simmering, baking, or roasting food, check it regularly and stay in the home.
• Always keep a lid nearby when cooking. If a small grease fire starts, slide the lid over the pan and turn off the burner. Leave the pan covered until it's cool.
• Keep anything that can catch fire away from your stovetop.
• Loose clothing can hang down onto stove burners and catch fire. Wear short, close-fitting, or tightly rolled sleeves when cooking.
• Have a "kid-free zone" of at least 3 feet around the stove and areas where hot food or drink is prepared or carried.
Importance of fire prevention
In a fire, mere seconds can mean the difference between a safe escape and a tragedy. Fire safety education isn't just for school children. Teenagers, adults, and the elderly are also at risk in fires, making it important for every member of the community to take some time every October during Fire Prevention Week™ to make sure they understand how to stay safe in case of a fire.
On this site, you'll find loads of educational resources to make sure that every person knows what to do in case of a fire. We have everything from apps to videos to printables and much more, to make sure you have the resources you need to keep your family, your community, and your city safe.
About Fire Prevention Week
Since 1922, the NFPA has sponsored the public observance of Fire Prevention Week. In 1925, President Calvin Coolidge proclaimed Fire Prevention Week a national observance, making it the longest-running public health observance in our country. During Fire Prevention Week, children, adults, and teachers learn how to stay safe in case of a fire. Firefighters provide lifesaving public education in an effort to drastically decrease casualties caused by fires. Fire Prevention is a dedicated way to try to improve conditions and make efforts to correct an issue before it turns into a problem.
Fire Prevention Week is observed each year during the week of October 9th in commemoration of the Great Chicago Fire, which began on October 8, 1871, and caused devastating damage. This horrific conflagration killed more than 250 people, left 100,000 homeless, destroyed more than 17,400 structures, and burned more than 2,000 acres of land.
Click for more on Great Chicago Fire
This fire, according to President Calvin Coolidge, could of been prevented if the conditions of the building were better. Please use this month of October to try and help your home or business from fires.