Part I Non Profit National Day- Clear the Shelters
8/12/2020 (Permalink)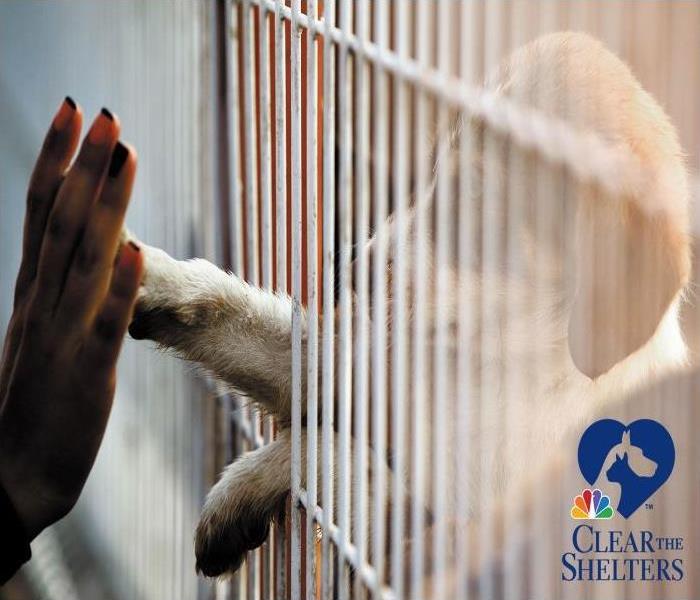 Visit the links within the article to locate a shelter dog that might fit your family! Let's Clear the Shelters Riverside!
We observe Aug. 17 as National Nonprofit Day to acknowledge the positive impact that nonprofit organizations have on our local communities and around the world.
NonProfitPro gives 5 ways you can do this, here are two ways:
Give Voice to Your Cause: Use the hashtag #nationalnonprofitday on your social media channels to be seen and create awareness for your organization among those who may not know about your cause, its goals and why it's important to get involved.
Thank Your Volunteers: To commemorate this special day of recognition, thank your volunteers for their support and call those who are regularly active and advocating on their behalf.
SERVPRO of West Riverside would like to highlight two non-profit organizations that Riverside Residents can participate within our own community. We will cover Part 1 today and Part 2 on August 17th
Part I -Animal Rescues
SERVPRO of West Riverside city is a huge supporter of dogs. Especially those in need of loving homes. Our shelters here in Riverside are full and many families are looking for fur babies and don't realize shelters are a great place to find that special pup. During current conditions with COVID-19, dogs can provide companionship and help relieve stress and anxiety.
NBC4 and Telemundo 52 announced the return of their successful Clear The Shelters™ pet adoption drive from August 1-31, 2020. The virtual campaign will raise awareness about the importance of pet adoptions while practicing safe social distancing measures and feature online platforms to make it easy for people to adopt during the COVID-19 pandemic.
About Clear the Shelters
NBC and Telemundo owned stations are teaming up with hundreds of shelters across the country to host Clear the Shelters, a nationwide pet adoption drive in August 2020 that helps find loving homes for animals in need. More than 411,000 pets have found their forever homes since 2015.
You can check out local Riverside Shelters by clicking on this link:
How to help Riverside County Animal Services
Riverside County Animal Services is joining forces again with NBC and Telemundo for the annual Clear the Shelters campaign. The Information is from their website:
Riverside County will be offering pets at a $20 adoption fee during the month of August at its two participating shelters in Jurupa Valley and Thousand Palms.
Due to the coronavirus pandemic, adoptions are still being handled by appointment only and pet meet-and-greet opportunities will be handled virtually when possible. The number to call for appointments is 951-358-7387. Visit www.rcdas.org, look through the available pets, make a note of the animal ID number, and give us a call at 951-358-7387 to schedule an adoption appointment.
This year's Clear the Shelters for Riverside County Animal Services will not include a one-day mega event with hundreds of adopters, also due to COVID-19 and social distancing guidance from federal, state and local officials.
"It will be a much different Clear the Shelters for us and many others," Animal Services Director Julie Bank said. "However, we appreciate NBC and Telemundo and the corporate sponsors for continuing in this mission to saving shelter pets."
In the five years since Riverside County Animal Services has participated, thousands of pets were saved from its shelters and found homes with loving families. More than 410,000 pets found homes during the international campaign's history.
"We're living in a different world right now," Bank said. "It's a stressful time. We know, of course, animals provide us with great comfort. We believe the human-animal bonds are growing that much stronger during all the lockdowns and work-from-home periods."
For those that are unable to adopt, or already have a full house of pets, there is still a way to participate. NBC and Telemundo are teaming with GreaterGood.org, which has a website established to allow anyone to donate to shelters and rescue groups.
Locals can donate directly through Riverside County Animal Services' website; here's a link:
https://licensepet.com/wl3/don/rvsdwd/468
Mary S Roberts Pet Adoption
Cards for a Cause
When you purchase a box of cards through our Cards for a Cause fundraiser, you not only spread joy by letting friends and family know you are thinking of them with hand-written cards, but you are also helping the Mary S. Roberts Pet Adoption Center with our mission and allowing us to help many more homeless dogs and cats in our community.Each box of 30 greeting cards costs $31.50 (including tax). Holiday Card box includes 50 cards for $31.50.
$13 from the cost of each box will directly benefit the Mary S. Roberts Pet Adoption Center.
A purchase of one box of cards will cover the cost of microchipping two pets, helping them return home.
A purchase of two boxes of cards covers the cost of rabies and other deadly disease prevention for one pet.
And, a purchase of three boxes will spay or neuter one pet, helping to reduce pet overpopulation.
Watch this video to see the cards in each box: https://youtu.be/yBRJi1bhnu8.
Click here to see the Holiday Card box, which includes 50 cards for the same $31.50 price: https://youtu.be/MREG2XcfBBE.
The fundraiser will close on August 15 at 11:59pm (PST).
Free pick-up of your greeting cards will be available at Mary S. Roberts Pet Adoption Center upon arrival of our bulk order by approximately September 1.
Alternately, priority mail shipping may be added to your card order for $12 per box. Cards will ship from the Mary S. Roberts Pet Adoption Center approximately 2 weeks after fundraiser closes, and tracking numbers will be provided at that time.
Don't have a need for cards right now? You may choose to make a donation below instead.
Dates Cards are Available-
Cards are not being offered at this time, but check her website for other ways to donate.
From Monday, 03 August 2020 12:00 AM to Saturday, 15 August 2020 12:03 AM