SERVPRO of West Riverside City Spotlights our Very Own Ellie on National Mutt Day!
7/29/2020 (Permalink)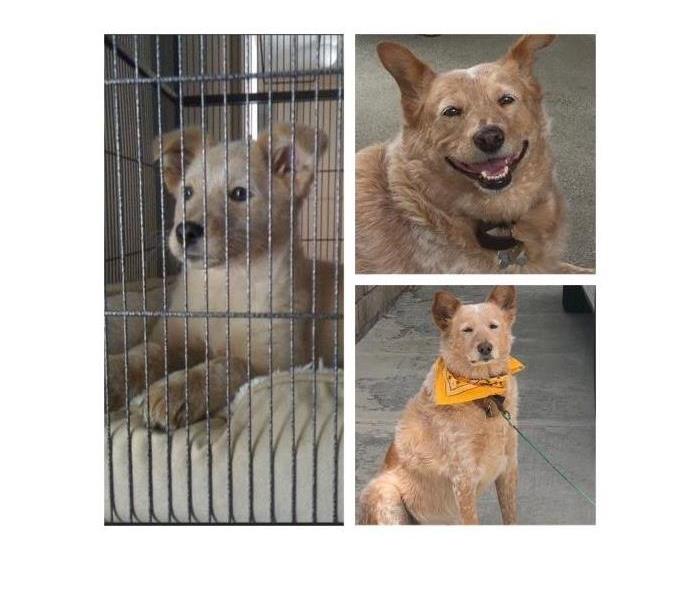 SERVPRO of West Riverside loves Ellie and her owner is happy she rescued a mix breed. She brought joy to their lives!
Unlike most of our doggy days, National Mutt Day, on July 31, focuses on the mixed breed dogs who sometimes get overlooked. This holiday inspires people to learn more about adopting one.
Dogs are special and there are many national holidays to prove it.
National Mutt Day also brings attention to the many great mixed breed dogs in need of homes. In fact, they benefit from the spotlight so much that we celebrate mixed breed dogs not just once, but twice a year! On both July 31 and December 2, join us in celebrating all the mutts and mixed breed dogs that make our lives so great.
In 2010 we rescued our Ellie from the IVHS in Pomona. It was December, the dog we went to pick up had been given to another person. My son, Josh, was devastated! Josh was in middle school, and I felt he was now old enough to help care for a dog. As he sobbed at the shelter for "Kelly" the 2yr old German Shepherd mix, he originally wanted, we attempted to console him. Staff members tried to find other dogs that he might like. One shelter employee thought maybe the puppies might do the trick. There was one puppy in a cage all by herself. A sign posted outside the cage read "aggressive", but how could a sweet little pup be aggressive?
We asked about this puppy, and asked if Josh could hold her. They opened the crate and handed over this precious, reddish and white speckled pup who looked like a little lion…. he instantly fell in love. She was listed as a Cattle dog mix. So I asked about the aggressive behavior noted on the cage. They said she was in a kennel with other puppies but she was biting them, so they separated her. I asked if she could be trained to address this behavior, their response was, "all dogs can be trained out of their bad behavior". This was enough to make me want her even more.
We took Ellie home in December after she was fixed, I was a little worried that she was too young, but they would not release her to us without this happening. We brought home this 10 week old puppy and named her Ellie. Here we were with an aggressive dog, who did not liked to be cuddled, she barked…a lot, and if you know cattle dogs, they are very high energy dogs that need a job to address that energy. Once all her shots were up to date, we enrolled her in obedience training at "It's a Dog's World" in Chino. They provided training in a park like setting, a more natural environment for a dog. They had us purchase a Gentle Leader Harness, which is an amazing way to leash your dog. After the course, we continued with socialization with other dogs and people.
As she matured, she grew into this beautiful unusual reddish color with white spots and speckles. She was no longer aggressive, and she allowed us to hug her, but only for a few minutes! We love her more than anything and we were so happy we spent the time and energy to get her to this amazing loyal creature.
If you are not sure about rescuing a dog especially not knowing the type of temperament they have, I hope this story motivates you. If you spend the time and work with them, I do believe you can train a dog out of any bad habits! You may need help from an obedience class, and it will be a lot of work, but nothing is better than the satisfaction of rescuing a dog in need of a loving home!
How to Observe National Mutt Day
Adopt a mixed breed dog
There are lots of great dogs out there who lack a home just because they don't have the right pedigree. But you can do your part to change all that. Getting any dog is a big responsibility, but a mixed breed will likely be healthier, happier, better behaved — and live longer than a purebred of the same age.
Donate to your local shelter
Not in the position to adopt a mutt? You can still help out your local shelter with a donation. Your money goes to things like food, toys and medicine. Every dollar counts, so you can really make a difference in the lives of all the dogs at the shelter.
Volunteer to help out
If donations aren't your style, you can always volunteer. Shelters need volunteers to befriend the dogs, play with them and take them for walks. A few hours of your time can make a big difference in their happiness and happy dogs stand a better chance of getting adopted.
Visit your local shelter to see available adoptable dogs, or ones who need rescuing. Here are a few:
Riverside County of Animal Services