How Riverside Businesses Can be Proactive and Not Reactive in the Event of a Disaster
7/22/2020 (Permalink)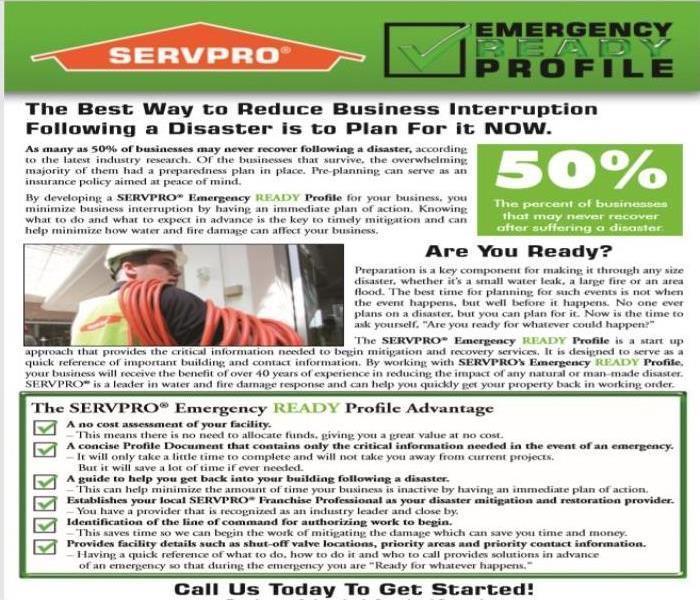 Emergency Ready Plan is a no cost assessment of your property, great value at no cost! Call us 951-351-8033
For a business owner, a worst-case disaster scenario involving fire or water damage can seem unthinkable until it suddenly becomes reality.
In the aftermath of a disaster, a quick response time by a disaster recovery company such as SERVPRO of West Riverside City, can help minimize property damage.
Owners need to have a quick and convenient emergency disaster plan that connects them with vendors, necessary contacts, and pertinent information when disaster strikes. The SERVPRO Emergency Ready Plan (ERP) is a respected industry tool during a disaster event. An ERP is so valuable , that in the midst of the confusion and panic that often surround a disaster, an owner or manager can be provided a sense of calm and clarity in reaching out for expert help.
Our June edition of Restoration Newsline helps us with 4 key areas to remember when building an emergency plan.
1. Identify your facility's greatest threats in order to assess the overall severity of the event.
During the discovery mode, what are your greatest threats (i.e. fires, tornadoes, floods, etc.)? Look at your locations. Do you have any that would be in a "tornado alley," at risk for hurricane damage, or subject to deep freezing temperatures? Try to think outside the box, without becoming a doomsday prepper!
2. Document all vital information and establish clear communication activities.
An ERP needs to contain critical property information that can help speed up response time after a disaster occurs. Consider including any documented prior loss history, and identify and label utility shut off locations, and prioritize your key contacts. Prior loss history can provide first responders and restoration vendors with historical information on your facility's condition. Proper utility identification will allow for quicker response times for emergency shut off, requests and key contact information is vital to starting the recovery process, allowing you to quickly contact key personnel and answer priority questions.
3. Practice! Practice! Practice! There is no "textbook" event, so expect the unexpected.
You should conduct practice sessions to make sure everyone is clear on the process. Always have clear evacuation routes in your ERP, and set a distribution chain for your key contacts and various locations.
4. Keep it updated, and have all necessary information communicated with your insurance company and emergency restoration vendors.
The best way for the recovery to begin is remaining proactive by always keeping your ERP updated. Your SERVPRO representative can help you keep your ERP up-to-date. People will come and go, updates will be made to the facility, and utilities can change. This should be a dynamic document that changes as your business does. If you don't keep it updated, you'll be several steps behind when disaster strikes.
Are you interested in a free demonstration of how the Emergency Response Plan works? It's a free service that can be maintained by you or your SERVPRO Representative. It will not take too much of your time. It will contain as much information as you would like it to. If you would like more information, visit our website.
Contact us at SERVPRO of West Riverside City.
We are a phone call away 951-351-8033