Riverside Summer Fire Safety Tips When using your Grill
7/8/2020 (Permalink)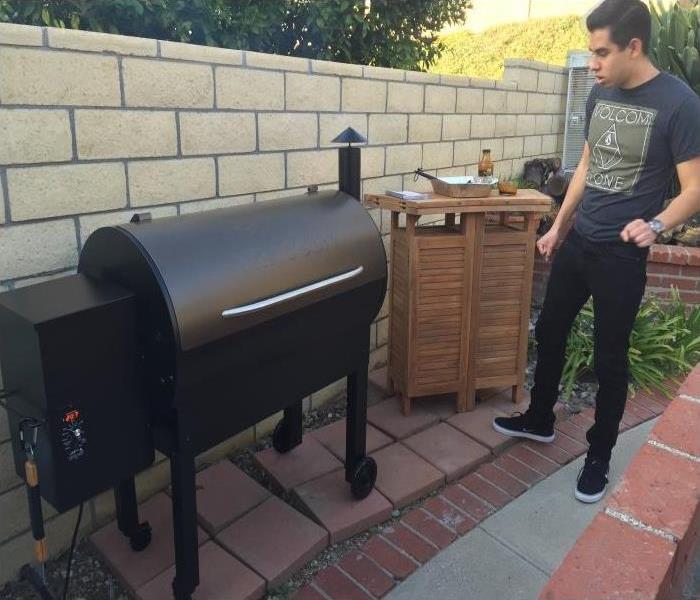 Our choice of grill is a smoker, nothing beats the taste of smoked flavored ribs. Practice safe grilling Riverside!
Summer is the time of the year for outdoor activities, but it also carries increased risk of fires started by outdoor cooking, fire pits and campfires.
This article will give Riverside residents important safety guidelines for grilling food outdoors.
NFPA provides the following statistics:
July is the peak month for grill fires (18%), including both structure, outdoor or unclassified fires, followed by June (15%), May (13%) and August (12%).
The grill had not been cleaned in more than one-quarter (29%) of the home grill structure fires.
The leading area of origin for structure fires involving grills was an exterior balcony or open porch, and 44 percent of the property damage from grill structure fires resulted from fires that started there.
Five of every six grills involved in home fires were fueled by gas (84 percent), while 12 percent used charcoal or another solid fuel.
Gas grills were involved in an average of 8,900 home fires per year. Leaks or breaks were primarily a problem with gas grills.
Charcoal or other solid-fueled grills were involved in 1,300 home fires per year.
Only use propane and charcoal grills outdoors. This will minimize the risk of fire and exposure to toxic gases and potential asphyxiation.
Position the grill several feet away from house siding and deck railings. Don't locate it under eaves and overhanging branches.
Place the grill a safe distance from lawn games, play areas and foot traffic. Keep children and pets from the grill area by creating a three-foot safety zone around the grill.
Use long-handled barbecue tools. Wear short sleeves or roll them up when cooking on the grill.
Periodically clean out the grease or fat that has built up in trays below the grill.
Keep a bucket of water near your grill.
Charcoal Grills
At the start of grilling season, make sure your grill is clean and free of ash and grease.
Purchase the appropriate starter fluid and store it out of reach of children and away from heat sources. Never use any flammable or combustible liquid other than charcoal starter fluid.
Never add charcoal starter fluid after coals or kindling have been ignited.
Follow the manufacturer's instructions on how to set up the grill and maintain it.
At the start of grilling season, check the burners for clogs, make sure all hoses and connections are secure, and restock the propane if needed.
Check the propane cylinder hose for leaks before using it for the first time each year. A soap and water solution applied to the hose will bubble up to reveal escaping propane. If you detect a leak, turn off the tank and grill. If you can stop the leak, don't use the grill until you have it serviced by a professional. If the leak won't stop, call the fire department.
If you smell gas while cooking, get away from the grill and call the fire department. Do not attempt to move the grill.
Use only propane cylinders manufactured after April 2002 with overfill protection devices (OPD).
Never store propane cylinders in buildings or garages.
If you've suffered fire damage to your home or business, call SERVPRO of West Riverside City today at 951.351.8033
We're Here for You
The team at SERVPRO of West Riverside City has specialized training and experience in fire restoration services, natural disaster and storm damage cleanup, water damage remediation and chemical cleanup. Call SERVPRO of West Riverside City (951.351.8033) any time.