Is Your Riverside Water Bill Too High?
6/29/2020 (Permalink)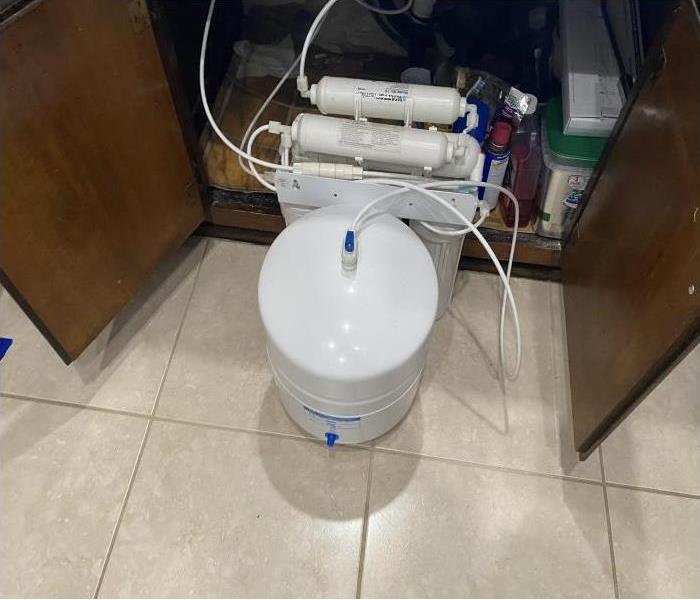 This water filtration system was leaking water causing damage to the kitchen and dining room, SERVPRO of West Riverside was there to help!
It can be normal for your water bill to fluctuate from month to month - you may be watering your lawn more in the Spring or Summer, or doing extra laundry if you have guests visiting.
As long as you know why your water bill is higher, there shouldn't be any cause for alarm. However, sometimes you may notice an unexpected large increase…and that could be a sign of water a water leak causing damage.
To help you prevent severe water damage to your property, here are 4 common kinds of leaks to look out for that may be causing your water bill to be too high:
Leaking Faucets
A leaky faucet may just release a few drops of water, but if you wind up with a severe leak you could be wasting as much as 20 gallons of water every day. That's why it's important to check each faucet to make sure there are no visible signs of a leak.
One way to check is by placing an empty cup underneath the faucet and making sure no water collects. You'll also want to take a look at the piping in the cabinets underneath the sink, and don't forget to check your outside hoses and water sources as well!
Leaking Pipes
Plumbing leaks can sometimes be difficult to detect as many of your pipes may be hidden behind walls or above the ceiling. Still, you can check all the visible fittings and fixtures for any signs of damage or leaking.
As for your hidden pipes, you can pay attention to the ceiling and walls themselves. If you notice any signs of discoloration, deterioration, or mold, that can be a clue to the source of the problem.
Leaking Toilets
A continuously running toilet can waste as much as 200 gallons of water every day and cause your water bill to soar.
One easy way to check if you have a leak is to dispense a few drops of food dye into the tank of your toilet. If you see the color start to come into the bowl, that's a sign of a potentially bad leak.
Purification Systems / Water Softeners
If you use a water softener or purification system, that could be the cause of your bill increase. These systems tend to produce more waste water than other plumbing systems.
If you water bill is suddenly high, you want to make sure that these systems are working correctly and not producing excessive water waste.
Here at SERVPRO of West Riverside City, we are available 24/7 and can be at your home quickly to help you if you do have water damage. Our local team is made up of the best advanced technicians with the training and equipment needed to handle any size disaster.