Water Damage? Respiratory Issues? Kitchen Appliance Maintenance Tips That Can Help!
6/25/2020 (Permalink)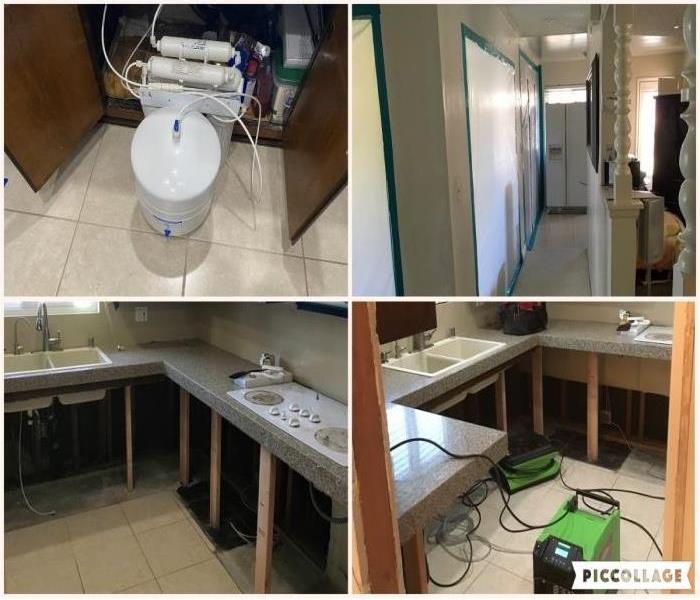 Riverside homeowner was very happy and his mind was put at ease, when we took all precautions for his son with respiratory issues.
SERVPRO of West Riverside City assisted with a leak from water filtration system where the kitchen cabinets and dining room were affected.
The young son of the homeowner had serious respiratory issues and the homeowner was very concerned about the water damage and the demo. To put the homeowner at ease, we contained off the work area, used air scrubbers and a HEPA vacuum. The HEPA filter will capture small particles such as mold, bacteria, asbestos, lead, dust and many other airborne contaminants. Air scrubbers will continuously clean the air and provide a clean, healthy and productive environment. HEPA (High-Efficiency Particulate Air) vacuums differ from conventional vacuums in that they contain filters that are capable of trapping extremely small, micron-sized particles. A true HEPA filter can trap 99.97 percent of all airborne particles larger than 0.3 microns. Finally, we cleaned all affected surfaces. The homeowner was very happy and his mind was put at ease.
What can you do to prevent such damage?
Some of the home floods commonly occur in the kitchen due to its many water outlets. For most homes, the kitchen commonly incorporates multiple appliances that connect to a water supply line. It is important to understand that water damages that occur in the kitchen may possibly spread past the kitchen and create larger damages throughout one's home. Keep your home prepared by periodically checking the appliances to help reduce water damage incidents from occurring.
However, a few common items that may lead to a kitchen flood are as follows:
Dishwasher
Over time, the water supply line in a dishwasher may degrade. This can lead to water leaking into enclosed areas under the appliance and rupture entirely. Check this line twice a year by removing the kick plate at the front of the dishwasher and use a flashlight to inspect the space and surrounding areas. If the area is wet with no explanation, this should be taken as a red flag. The dishwasher water supply line shut off should be located under the kitchen sink; turn it off and call a plumber.
Under Sink System
Underneath the sink, you may find a water filtration system. As time passes, the lines can degrade and rupture. A crack in the line can lead to flooding and potentially much worse. Check the sink twice a year to avoid any costly damages.
Leaking Sinks
If your kitchen or bathroom sink is leaking, you can find yourself dealing with water and possibly mold damage. The problem is, sometimes it is hard to know why it's leaking and where it's leaking from. So we wanted to go over a list of common causes of sink leaks so if you ever find yourself dealing with one you can go down this list and hopefully be able to either fix the problem yourself or better articulate the problem to a plumber/repairman.
Drain Leak: Leaks can come from a thinly sealed drain or from a drain that is old and worn. It is possible to identify and fix this situation on your own by tightening the nuts located at the point where the pipes meet. However, if you feel uncomfortable doing it yourself, you can reach out to a plumber to check it.
Faucet Leak: This type of leak is easier to identify. Water puddling at the top of the sink when the faucet is turned on or water collecting under the sink can be big indicators. This is a problem generally caused by failing washers or worn-out gaskets, and possibly a faucet that needs to be completely replaced. Either way, you can generally take care of these problems on your own and should only need to call a plumber if you are uncomfortable attempting to do it on your own.
Leaks from the Rim Around The Sink: Simply put, this leak comes from an unsealed section between the sink and countertop. This can be fixed by re-caulking or tightening whatever connects the sink to the counter.
Loose Water Supply Connection: This leak is generally constant and is out of sight and fairly hard to identify. Usually caused by corrosion or a bad gasket in the connector. Tightening the connection or replacing the gasket can be the solution to the problem.
Clogged P-Trap: The P-section is a curved section of a pipe which prevents foul smells from seeping through the drains. If it gets clogged, it can prevent proper draining causing leaks. It's possible you'll just need to unclog it, but it might need to be replaced, which is definitely the job for a plumber.
Damaged O-Rings: This is what prevents leaks in the area where the faucet is being held in place. So if there is an issue with the O-ring, you could have quite the mess on your hands. Luckily this is something you should be able to just replace on your own.
Worn-Out Washers: This is one of the most common leak causes. Constant friction wears them out, and replacing them is something you can do on your own if you want to.
Corroded Valve Seat: Corrosion can be prevented with regular cleaning, but if the valve seat gets corroded to a certain point you would be better off contacting a plumber to let you know if it needs to be replaced or not.
Refrigerator
Moving the refrigerator may be tricky sometimes. It's important to be cautious about its placement. Moving the refrigerator too close to the wall may kink or break the water supply line. However, having the refrigerator too far out may cause potential over-stress on the line and potentially cause the line to rupture. Keep in mind, the plastic water supply line degrades over time and can crack or break. To prevent water damages from potentially happening, it is advisable to remove the plastic line and replace it with a copper or stainless-steel line that has better durability.
Being prepared can help prevent a disastrous situation. By regularly checking on these appliances, you will help avoid any catastrophic damages. SERVPRO of West Riverside City is faster to any sized disaster, and we are here to help 24/7/365 to make it "Like it never even happened."