We Can Clean and Disinfect Your Riverside Gym
6/1/2020 (Permalink)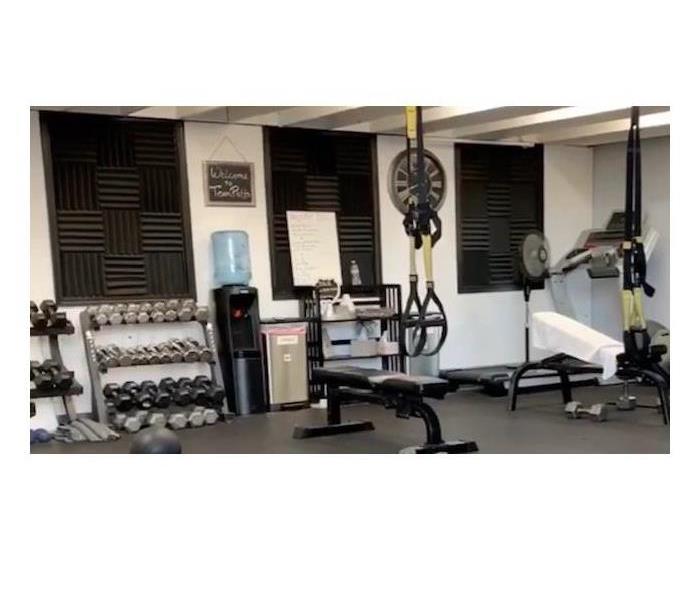 Free weights, weight machines, and exercise mats are all handled by so many people all loaded with germs that can lead to viruses. Let SERVPRO Help!
As gyms and workout facilities start to open back up, gym-goers will be eager to get back into their workout routine.
Before letting your members back into your doors, make sure that your gym is prepared for post-pandemic response to protect your staff and members.
According to the CDC, the virus is thought to spread mainly from person-to-person. This could be between people who are in close contact with one another (within about 6 feet) or through respiratory droplets produced when an infected person coughs or sneezes. These droplets can land in the mouths or noses of people who are nearby or possibly be inhaled into the lungs. It may be possible that a person can get COVID-19 by touching a surface or object that has the virus on it and then touching their own mouth, nose, or possibly their eyes, but this is not thought to be the main way the virus spreads.
Gyms are hotbeds of germ activity because of people being so close together and constantly using the same equipment. By implementing enhanced disinfection guidelines in your gym, you can help minimize the spread of germs.
Germ Hot Spots:
Free weights
Weight machines
Exercise balls
Exercise mats
Cardio machines
Free weights, weight machines, exercise balls, and exercise mats are all handled by so many people that the equipment is loaded with germs that can lead to viruses like COVID-19 among other illnesses. As gym-goers start to use this equipment, they could be holding or lying on a slew of germs. According to a survey of over 1,000 gym-goers, 31.1% admitted they do not wipe down equipment after use.
Wiping down equipment is not a new gym policy by any means, but to help your members keep peace of mind, read and enforce the tips below:
Provide hand sanitizer (at least 60% of alcohol) throughout the facility and require members to sanitize hands

At facility entrance, or before beginning fitness activities.
After using each piece of equipment.
Upon completing their fitness routine and leaving.

Provide disinfecting wipes for members to wipe down equipment surfaces that are in direct contact with skin after each use. Surfaces include:

Hand grips on cardio equipment (treadmills, bicycles, ellipticals, stair-steppers).
Hands grips on dumbbells, weight bars, and other strength-training systems.
Pads/cushioned components (fitness mats, bike seats, lifting benches)
Fitness balls, rope handles and other fitness equipment.

Any U.S. Environmental Protection Agency EPA-registered antimicrobial wipes are appropriate for performing individual wipe-down between uses.

Consider Benefect Botanical Disinfectant Wipes

Perform a thorough cleaning and disinfection of all skin-contact surfaces of equipment at the end of the day using an EPA-registered disinfectant.

Currently there are no disinfectants that have been tested specifically for this particular emerging viral pathogen. The CDC recommends usage of a labeled Hospital Grade disinfectant with claims against viruses similar to SARS-CoV-2.
Reopen with a Professional Deep Clean
Now, more than ever, it is important to provide a safe, clean environment for your staff and members. Bring them peace of mind by having your gym sanitized and disinfected by SERVPRO. Our cleanup procedures generally include cleaning of porous and non-porous surfaces, disinfecting of non-porous surfaces, cleaning and disinfecting of equipment, tools, and/or supplies used for cleanup process, and disposal of waste.
SERVPROXIDE™, SERVPRO's proprietary disinfectant, is a hospital-grade disinfectant that has demonstrated effectiveness against viruses similar to COVID-19 on hard, non-porous surfaces. As mentioned before, there are no disinfectants that have been tested specifically for this particular emerging viral pathogen. However, per the CDC, this product can be used against COVID-19. Porous materials like carpet, rugs, upholstered items, and draperies that are not water sensitive can also be wet cleaned using SERVPROXIDE™.
If you are interested in inquiring about our services we're here to help – 24 hours a day, seven days a week, please do not hesitate to call us 951-351-8033.