How Can SERVPRO Help Senior Living Facilities in Riverside City
5/13/2020 (Permalink)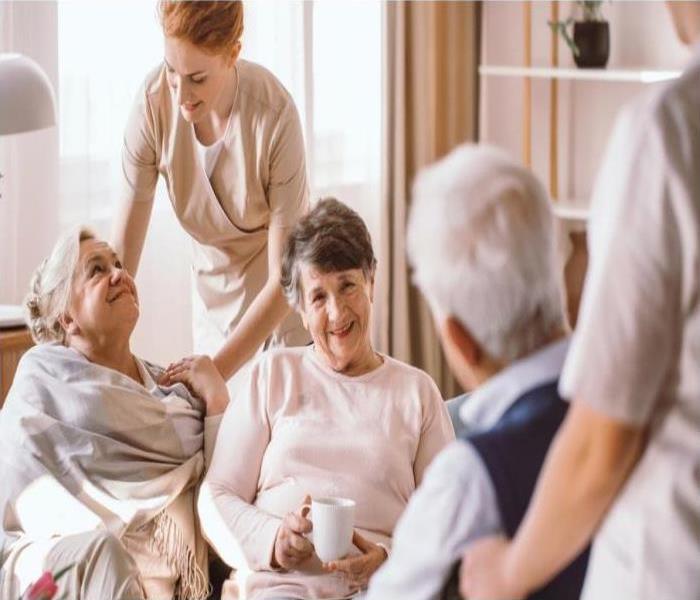 Assisted living workers are serving and caring for our families. Allow us to help protect what matters most.
With our most vulnerable citizens at risk, SERVPRO and Disaster Recovery Teams have been mobilizing cleaning crews to assisted living and senior nursing homes throughout the state.
Recently, a new strain of the coronavirus, COVID-19, has been in news outlets all over the world. What exactly is COVID-19? Coronavirus disease 2019 (COVID-19) is an infectious disease caused by the severe acute respiratory syndrome coronavirus 2 (SARS-CoV-2).
The disease has spread across the world since 2019, resulting in the 2019–20 coronavirus pandemic. A pandemic is an outbreak of a disease that is found over a wide geographic area and affects a substantial segment of the population.
The Centers for Disease Control (CDC) reports that older adults and people with severe underlying chronic medical conditions like heart or lung disease or diabetes are at a high risk of developing more serious complications from COVID-19.
SERVPRO of West Riverside City recommends that everyone protect themselves and others by following the advice of the CDC. The CDC urges people to immediately incorporate the following practices into their daily lives.
Wash hands often with soap and water or use hand sanitizer.
Avoid touching the eyes, nose, and mouth with hands that are unwashed.
Avoid close contact with people who are ill.
Obtain medical assistance if one becomes sick. Stay home to avoid infecting others.
Cover the mouth and nose with a tissue when coughing or sneezing. If a tissue is not available, use the inside of the elbow.
Wear a facemask.
Clean AND disinfect frequently touched surfaces, at least one or more times daily.
Typically, nursing homes and assisted-living centers take very proactive measures to prevent the outbreak and spread of infectious diseases such as the flu. Nursing homes all over the United States have been put on lockdown to keep COVID-19 out of the nursing home environment. Elderly patients who have contracted the virus have been put in quarantine or taken to the hospital. Workers are on high alert during this national state of emergency.
When is it time to call in a professional cleaning service to clean, disinfect, and sanitize a nursing home or assisted living facility?
Seek advice and assistance from a highly trained, well-informed, and experienced cleaning expert to answer this question. The most vulnerable are the elderly who have underlying ailments that compromise their immune system and their respiratory system. A competent cleaning professional can provide prevention strategies for a care facility, as well as a business, daycare, or residence.
People recognize SERVPRO as the industry frontrunner for water damage restoration, fire damage restoration, and disaster recovery. The SERVPRO team also specializes in commercial and residential cleaning at a level that exceeds other cleaning services. Their enhanced cleaning goes beyond the general practices of the janitorial staff. Using advanced cleaning tools, technologies, and techniques, the SERVPRO professionals clean to the deepest level. They follow CDC guidelines and use only safe, hospital-grade cleaning solutions that eliminate germs.
When SERVPRO comes into a facility for a deep clean to address germs and infection, they offer services that include disinfecting all floors and flat surfaces. To remove dust and mites that can cause or worsen a reaction, they clean air ducts, the HVAC system, and blinds. COVID-19 causes inflammation throughout the lungs, so removing dust and other particles that exacerbate inflammation creates a safer environment. Also, SERVPRO can clean drapes, upholstery, and carpet where dust, dirt, and germs hide.
When there has been repeated sickness in a home, sometimes a professional deep-clean response is needed. Removing pathogens (COVID-19) and allergens (dust) might be just what is needed.
When a SERVPRO team leaves a facility, the client can rest assured that their business, home, school, or church is clean, disinfected, and sanitary. SERVPRO professionals have received advanced training in restorations, cleanups, and cleaning maintenance. They are the pros who know how to serve.
SERVPRO of West Riverside City can help with following facilities.
Types of Facilities:
Hospitals
Assisted Living Centers
Outpatient Surgical Centers
Electronics and Machine Restoration
Hospice Facilities
Senior Living Facilities
Medical Office Buildings
Our professionals are available 24-7/365 to help remediate any damage, regardless of the cause, scale of the loss, or the size of your facility.
We are here to help! Call us at 951-351-8033.