Are You Feeling the Effects of Dry Hands?
5/6/2020 (Permalink)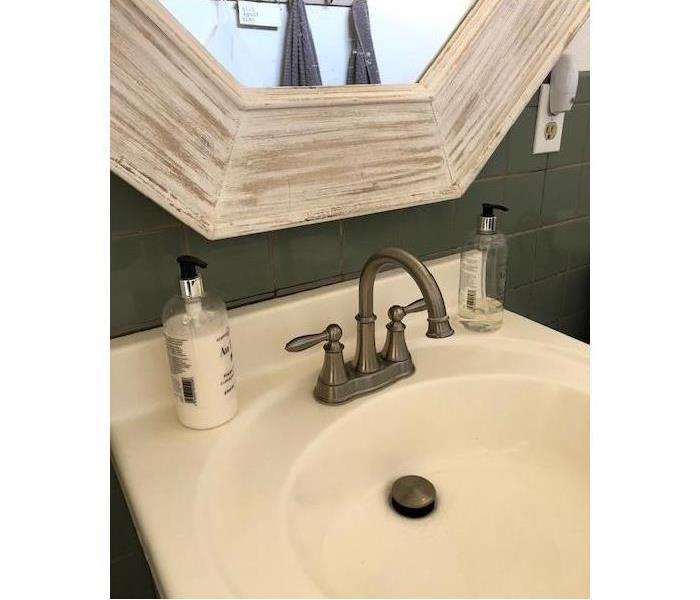 Along with hand soap keep hand lotion, or better yet, hand cream at every sink to prevent dry hands.
We hear of many complaining of dry cracked hands as a result of measures we need to take. We are urged to follow the direction from CDC and health officials who have emphasized that regular hand washing is imperative to helping curb the spread of COVID-19.
In this blog we will discuss the follow: When do I need to wash my hands? Tips from AAD on how to reduce risk of dry, chapped hands. And what types of hand soaps and hand moisturizers should we look for?
When do I need to wash my hands?
Handwashing throughout the day is important, but even more important during an outbreak. Always remember to wash your hands in these situations:
After returning from a public outing (grocery store, work, school, concert, sporting activity, hospital, nursing home, etc.).
Before leaving the bathroom — both at home and in public bathrooms.
After shaking hands during flu season and virus outbreaks.
Before, during, and after preparing food, especially raw food.
Before eating food.
Before and after caring for someone at home who is sick with symptoms of vomiting or diarrhea.
Before and after treating a cut or wound.
After changing diapers or cleaning up a child who has used the toilet.
After blowing your nose, coughing, or sneezing.
After touching an animal, animal feed, or animal waste.
After handling pet food or pet treats.
After touching garbage.
After putting on your shoes.
After using public computers, touching public tables and countertops, cash and coins, other people's phones, etc.
Tips From AAD
Don't let dry cracked skin stop you from washing your hands regularly or from washing them at least 20 seconds. We found tips from American Academy of Dermatology Association (AAD).
We naturally have oils and wax on the outer layer of our skin which shields and guards our skin. This maintains natural moisture. With the increase of washing our hands with hand soap and the use of alcohol based sanitizers, this causes a break down of this barrier causing dry, cracked hands.
To reduce your risk of dry, cracked skin from handwashing, follow these tips from board-certified dermatologists:
Use lukewarm water
Not hot water, for at least 20 seconds, patting your hands dry with a towel.
Moisturize immediately after washing your hands.

Pat your hands dry, then rub a pea-sized amount of moisturizer over your hands.

Use moisturizers with mineral oil or petrolatum.

Look for ointments and creams — the ones you squeeze out of a tube — as these are more effective than products you pump out of a bottle.

Choose fragrance- and dye-free moisturizers.

These are less irritating for your skin.

When soap and water aren't available, use hand sanitizer.

The CDC recommends using hand sanitizer with at least 60% alcohol. Since these can be drying, apply moisturizer after your hands dry.

Continue washing your hands, even if they feel dry.

Washing your hands can remove harmful bacteria and viruses.
Don't believe everything you hear or see online. Using moisturizer after washing your hands does NOT negate your hand washing efforts, and there is NO evidence that using hand sanitizer makes you more vulnerable to infections or viruses.
What Types of hand soaps and hand creams should we look for? uclahealth.org helps us with some tips:
How should we wash our hands to avoid skin dryness?
Apply enough mild, fragrance-free soap to remove dirt, but avoid using so much that it creates a thick lather—this washes away natural oils. Wash with warm, not hot water, for at least 20 seconds, patting your hands dry with a towel. Once your hands are dry, apply a moisturizer immediately. Keep small travel sizes of creams in purse, gym bag, and at your work desk to make sure it is within reach.
Are there any ingredients people should avoid when their skin is chapped?
Products that contain fragrance can be irritating to chapped, sensitive skin. Creams and ointments are better than lotions. Hand sanitizers with too much alcohol can be drying to chapped skin. You can try a hand sanitizer with a moisturizing base, just know that it will not be as effective in killing viruses.
Are there common misconceptions about what to look for in hand creams?
Use hand ointment or cream instead of a lotion as these are more effective. Petrolatum (Vaseline) is still the most effective moisturizer out there.
Are there other treatments besides hands creams that people should consider?
At nighttime before going to bed, apply thick moisturizer and then cover with cotton gloves to increase absorption. Beauty product junkies can consider a moisturizing mask for hands. These glove-like masks are applied for 20 minutes, then washed off. Consider a humidifier at night—raising the humidity level in a room can help dry skin.
Again, health and safety are key during these pandemic times. Keep these tips in mind since this will likely be the "new norm" of regularly keeping our hands clean, and for minimum 20 seconds. I use petroleum jelly every night and first thing in the morning. I can see a difference taking these steps. Please be safe!