The Truth About Mold in your Riverside Commercial Property
3/16/2020 (Permalink)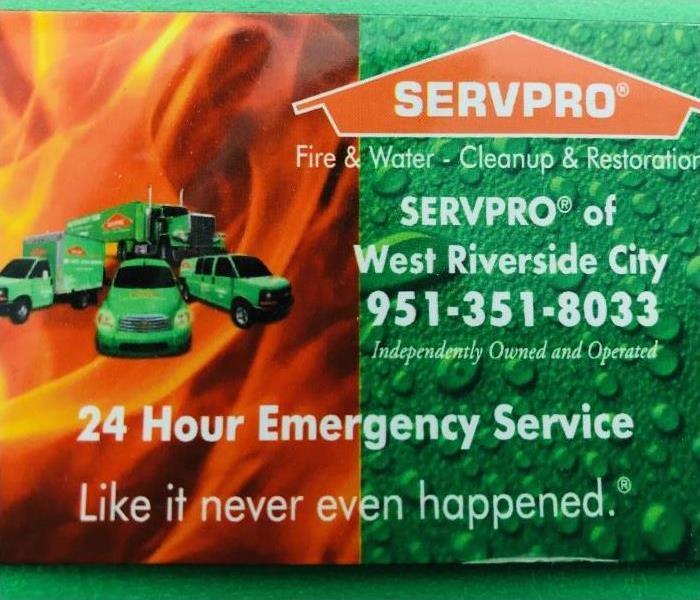 Let SERVPRO of West Riverside City handle the mold issues in your commercial building! Call us 951-351-8033
Many people equate mold with gross, fuzzy, green stuff found on old and expired food.
While this is very common; it is certainly not the only type of mold that may cause health effects for anyone encountering it. Mold can grow almost anywhere and on any surface where there is moisture and oxygen present.
Unfortunately, the interior of your commercial building is no exception. Mold can come fast and furious with little to no warning signs and may pose an array of health effects.
At the end of the day mold and human contact simply doesn't mix and by following a few simple steps you can lower the risk of your building being at risk of a mold infestation.
Stay Attentive – Mold is often not visible to the human eye. It is best to have a plan in place to regularly inspect your building. Places that contain high moisture levels are at the greatest risk. Musty smells, mold marks on carpeting, and fuzzy wall-stains are all signs that mold may be present and certainly worth noting when inspecting.
Plumbing – Plumbing issues are at the root of almost all mold scenarios. Things like roof leaks, pipe leaks, unsealed windows and door frames should be repaired by professionals immediately.
Moisture Levels – Mold loves moisture. It is best to have dehumidifiers and fans at all places necessary to reduce these moisture levels and cut out what mold needs most to grow!
Ventilation Systems – HVAC systems are the hardest parts of a building to keep mold-free. This is also one of the most important parts to keep mold-free because this is how air is spread throughout a building. If these vents contain moldy air, moldy air will surely be ventilated throughout, causing many more problems then what was originally there.
Call a Professional – If you suspect mold but can't seem to pinpoint the source or are not sure how to remediate it, we highly suggest you contact a professional to inspect your commercial building. These professionals should have certain IICRC certifications and should take care of the issue right away. SERVPRO will have your business back to operating as healthy as before!
The highly trained mold remediation specialists at SERVPRO of West Riverside City pride themselves on responding FAST to stop the spread of any commercial mold and prevent any further damage. Using the latest mold remediation equipment and practices we are fully equipped to take on any problem your business may have.
Click to learn more about Mold Remediation and Restoration.