Is Spring the Best Time to Clean Your Riverside Home?
3/11/2020 (Permalink)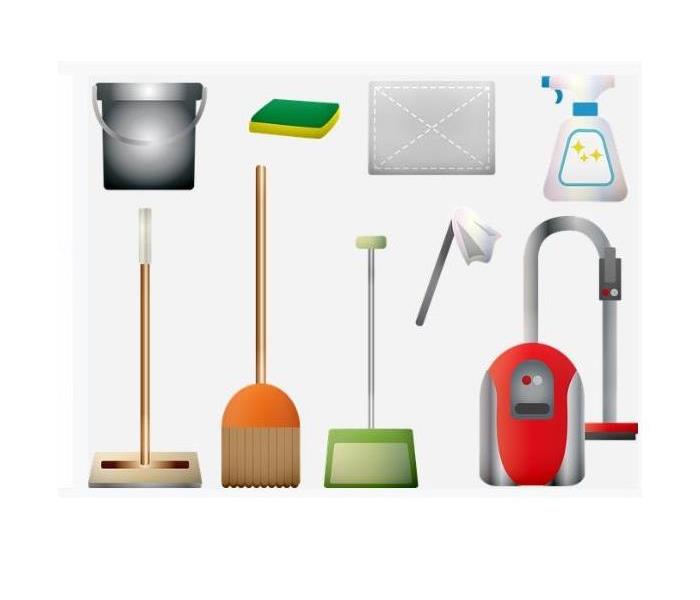 Call SERVPRO of West Riverside City for your Spring Cleaning needs. We can handle the deep cleaning for you! 951-351-8033
Spring seems to be the perfect time of year for deep cleaning your home due to the change in seasons. The weather is perfect for opening windows and letting the fresh air flow through your home.
The truth of the matter is that spring cleaning could be the most boring task or could be the easiest. It all depends on how you arrange tasks and the actions you take every day in order to have a clean and a cozy home. Every Riverside new home or older home has its own unique characteristics and needs. There are a few basics that anyone can fall back on when it comes to spring cleaning.
Kitchens, bathrooms, bedrooms, living areas, washing, replacing, dusting, sorting…not sure where to start? Don't feel overwhelmed, here are a few handy tips that can be used as a checklist to make your spring cleaning easier. We also recommend you have all cleaning products beforehand so you won't be tempted to put it off.
Kitchen
We recommend you start by cleaning something that needs to be shined, this task will be more appealing as you will see the results immediately.
Clean inside and outside of the refrigerator. Take the opportunity to throw out expired food products since you will be emptying the shelves to clean them.
Clean stove and oven and wipe down microwave.
Wipe down shelves in cupboards and inside drawers.
Clean garbage disposal blades by grinding ice and freshen it with baking soda and/or citrus rinds.
Clean or replace your range hood filters.
Sweep and mop floors with a nice clean fragrance…You're done!
Bathrooms
This task could be one you would rather leave for last, but think of entering a fresh, clean bathroom.
Wipe down shower and tub and re-caulk if your caulking has cracks or is moldy.
Clean toilet, counter tops, and mirrors.
Sweep and mop the floor.
Wipe down shelves in cupboards and inside drawers.
Clean/wash bath mats, shower curtain, rugs, etc.
Bedrooms
In case you have many bedrooms you can take one per day.
Wash all bedding including your mattress cover
Wash pillows (or replace if needed it)
Rotate and flip mattress
Organize and clean out closet (take the opportunity to collect clothing you no longer wear. Place them in a bag and keep it somewhere you'll remember to take to a donation center).
Living Areas
These areas (living room, family room, loft, game room, dining room) are the most used, so we recommend you leave these for last so you can clean and organize them properly.
Vacuum/sweep and mop floor.
Polish furniture.
Dust electronics/media centers other.
Organize DVDs, remote controls, magazines, etc.
Clean sofas and pillows.
Throughout the House
This task can be done one per day and depending on the amount of work needed.
Dust furniture surfaces and ceiling fans.
Vacuum, wash or dry clean all carpets, rugs, and draperies.
Wipe down walls, baseboards, and light switches.
Wash windows (inside and out) and windowsills.
Wipe down blinds.
Change air filters.
Apply a light coat of wax to wood cabinets and furniture.
Seasonal Maintenance:
The following tasks are more for maintenance but essential. Completing these tasks will reflect a well maintained home and will contribute to the safety of your family.
Test all smoke detectors (this should be done monthly).
Check caulking and weather stripping around windows and doors, inside and out.
Check for cracks on the exterior of your home and seal them up with proper caulking.
Clean sliding door track and apply silicone lubricant if necessary.
Oil moving parts of garage door.
Visually inspect roof for broken shingles and clean rain gutters.
Check your attic for evidence of roof leaks, and ensure your attic soffit vents are not blocked with insulation.
Pressure wash soffits, walkways, and roofing to rid of mildew.
Contact us SERVPRO for your cleaning needs. SERVPRO has the expertise to provide deep cleaning service, more than your basic house cleaning. Our residential cleaning services will ease the burden of the constant maintenance cleaning of your home, but will also create a safe, clean, and comfortable living environment for you and your family.
You know SERVPRO as a leader in Fire and Water Cleanup and Restoration, our staff is equipped with the knowledge to restore your property. If you would like to schedule service for your home or business, please call today! SERVPRO of West Riverside City specializes in the cleanup and restoration of residential and commercial property after a fire, smoke, or water damage.
Don't wait, be ready to enjoy your fresh, clean home by organizing the activities during the coming months with this useful checklist or by contacting us, don't rush for spring or summer time we are here to give you a hand!