Explosive Growth of Manufacturing and Distribution in the Inland Empire Is Main Topic for Perfect Vision Expo Jan. 30
1/27/2020 (Permalink)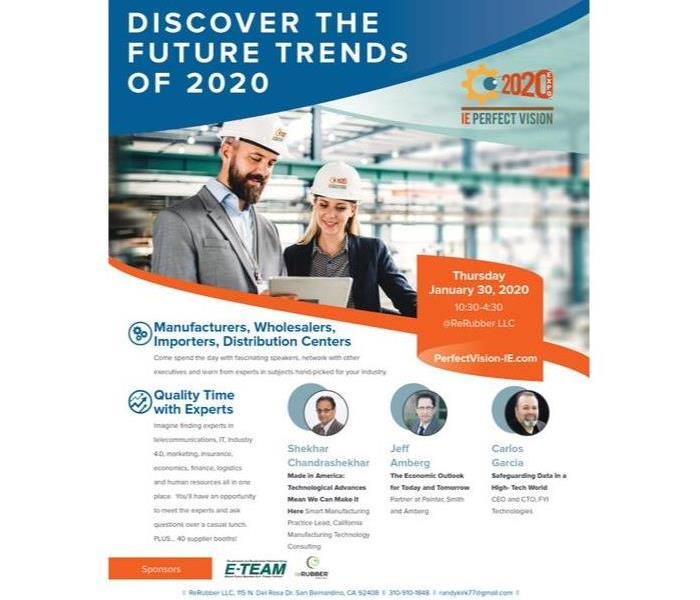 Come join SERVPRO of West Riverside at IE-Perfect Vision with Manufacturers, wholesalers, & distribution centers for enlightening information!!
Come join SERVPRO of West Riverside City with other manufacturers, distributors, logistic companies, and importers at reRubber's huge conference facility in San Bernardino. The action starts at 10:30 with speakers, exhibitors, and networking.
You can't help but notice the change in the Inland Empire anytime your drive down the 60, the 215, the 10 or the 91. Huge distribution center buildings popping up like the poppies after a great rain. Semi-trucks lined up bumper to bumper filled with products moving to and from the docks, the trains, the manufacturers, and the DC's.
There's another change that isn't quite as visible, but the combination of tech advancements currently underway will revolutionize life worldwide. And the IE is right at the center of these monumental shifts in how we make things, move things, and buy things: Artificial intelligence, robotics, 3D printing, the internet of things, solar energy, electric vehicles, big data and more.
The Perfect Vision 2020 Expo Is coming on January 30, at reRubber, LLC , 215 N Del Rosa Dr., San Bernardino 92408
The purpose of the Expo is to bring together manufacturers, distributors, importers, DC's and their suppliers of goods and services to get clarity on how these new technologies can help everyone in the IE grow sales and profits in the next decade. Details and tickets can be found at https://PerfectVision-IE.com
Three highly regarded experts in their fields will keynote the expo.
Shekhar Chandrashekhar - Smart Manufacturing Practice Lead at CMTC
Shekhar Chandrashekhar is a leader, strategist, and innovator with a history of driving improvements that streamline operations, drive growth and increase profitability on a global scale. His advanced training in engineering management provides him with the ability to transform organizations, influence company and product positioning and drive a laser focus on priorities that support the company's vision, goals, and positioning.
As Smart Manufacturing Practice Lead at CMTC, Shekhar partners with a network of innovation institutes and industry 4.0 solution providers to assist manufacturers in digital transformation. He has vast expertise in IIOT, Agile, and data and information management.
Jeffrey Amberg - Wealth Manager at Painter, Smith, and Amberg
Jeff will speak on the subject of "An Economic Update: Current Narrative for 2020 and Beyond"
Can the current economic expansion last

Trade, Manufacturing, Energy and their impact on our future
Emerging technology trends that manufacturers should watch
As a wealth manager at Painter, Smith and Amberg for the past 21 years Jeffrey has provided comprehensive financial advice and portfolio management, individually designed for his clients. His goal is to empower his clients to focus on what is most important in their lives - Faith, Family, Finances and Freedom.
Carlos Garcia - CEO/CTO and founder, F.Y.I. Technologies, Inc.
We live in a world where data is critical, and yet data is exposed to theft, destruction, or even piracy. Carlos will provide specific approaches for "Safeguarding Data in a High-Tech World."
The expo will run from 10:30 to 4:30 on January 30. Lunch is included, and is produced by E-TEAM Referral Network, a B2B networking organization.
SERVPRO of West Riverside City will be there!
Do you know what to do when the "Big One" hits? We will be providing information on what to do in case we are hit with a large earthquake. Are you prepared for an earthquake at your place of business? Or what to do during an earthquake?
Visit our booth! We will provide tips and also share information on our Emergency Response Program which is a free service to help your business prepared for any natural disaster.
Details and tickets can be found at https://PerfectVision-IE.com