Balancing Expectations After Commercial Fire Damage In Riverside
7/25/2022 (Permalink)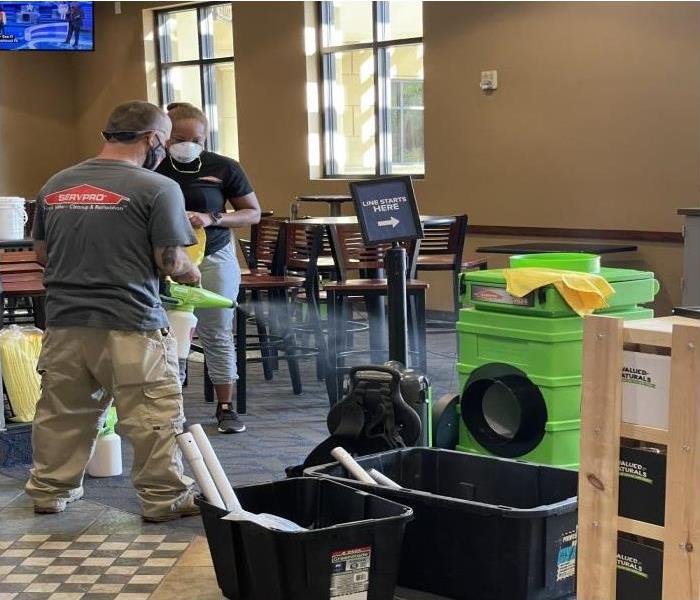 Our team handles the core restoration tasks such as cleanup of residues, and bringing your business back to preloss condition.,
Our Crew Is Your Best Option When It Comes To Restoring Your Commercial Property In Riverside To Pre-Damage Condition
The damages left by a fire at your workplace may disrupt regular operations, but perhaps the most pressing issue is the expectations from different parties affected by the blaze. Your customers want you to resume serving them immediately, while your employees could be traumatized by the event thus requiring a few days off. You also need to liaise with the property owner to ensure the restoration done does not lead to friction later on. We offer professional restoration services in Riverside that can help you meet all these needs.
Depending on the intensity of the blaze, restoring commercial fire damage in Riverside can take days or weeks. Giving your regular employees time off as you handle the restoration can help them cope with the loss. Since we send an entire team of restorers from SERVPRO, it is easy for your employees to take days off. Our team handles the core restoration tasks such as cleanup of residues, debris removal and refinishing, as well as mundane tasks such as moving items and rearranging spaces to their preloss state.
Working quickly to fix the damage helps you resume serving your customers as usual. It can also help save costs. For example, smoke residues are acidic so cleaning them from surfaces fast prevents secondary damages like staining. By working in teams, our SERVPRO crew can deliver results faster. We also use different equipment like HEPA vacuums to clean residues from surfaces, and self-propelled scissor lifts to ease access to different sections in a house including high walls and ceilings.
Fire can leave severe damage to structural components necessitating replacement. Apart from the extra costs involved whenever replacements are necessary, there is also a need to involve the property owner to ensure you meet expectations. Our SERVPRO technicians help in different ways. First, we do a thorough inspection to unearth every possible issue including problems in the HVAC system. We also prioritize restorative cleaning over replacement where possible saving unnecessary costs. We also work closely with the parties involved including the property owner and insurance adjusters.
Seeking professional help makes it easier to deal with the different aspects of fire damage. Call SERVPRO of West Riverside City to assist. You can reach us at (951) 351-8033 any time.