How To Restore Electronics After A Riverside Business Fire
6/21/2021 (Permalink)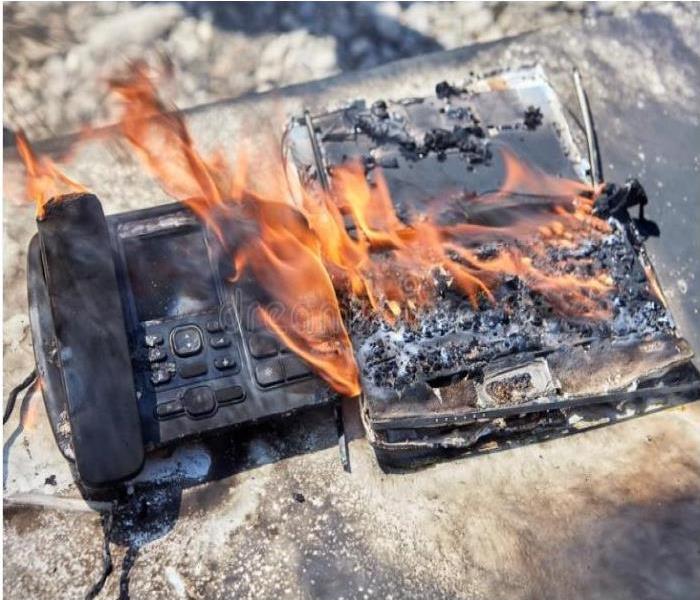 An electrical fire doesn't have to be the end of your electronics. If you react quickly, most electronics not directly subjected to heat can be saved.
Having an electrical fire in your business is bad news. Damage to your electric wiring, appliances and electronics can be extremely difficult to repair. Soot and smoke damage have incredible penetration, and it only takes a minuscule amount in the wrong place in modern electronics to destroy an entire device.
Smoke Hates Electronics
Computers and complicated electronics have extremely dense circuit boards. The space between conductors is precisely calculated to be the least distance possible. Unfortunately, this means it takes very little to create a short circuit.
There are three main dangers to electronics from the smoke:
A black, oily film
Polarized smoke
Acid in the soot
Smoke Eats Boards
Smoke from an electrical fire is a complicated substance and depends on the materials burned and the degree of heat. However, it always contains some soot and oil. If the material wasn't well-combusted, the amount of soot and smoke increases enormously.
While the oil and soot can short out your circuit board, the acids in the smoke will start to dissolve the board itself. This can loosen connections and allow tracings to migrate slightly, causing spikes in impedances and loose connections that lead to computer failures.
Computer Cleanup Is Usually the Worst
Unlike most electronic devices, most computers have fans that actively draw in air from the room to cool the CPU and graphics processor. This means the smoke is being pulled in, and it makes computer cleanup extremely difficult.
Professional electronics restoration companies have special solvents that can often save a computer, but it should be removed from power before receiving smoke damage. If you can safely do so before evacuating, you or a manager should shut off the breakers. It makes it safer for the firefighters, too.
An electrical fire doesn't have to be the end of your electronics. If you react quickly and hire the right experts, most electronics not directly subjected to heat can be saved. Either way, SERVPRO will return your business to "Like it never even happened."