Part II-National Non Profit Day August 17th: Project Boon
8/17/2020 (Permalink)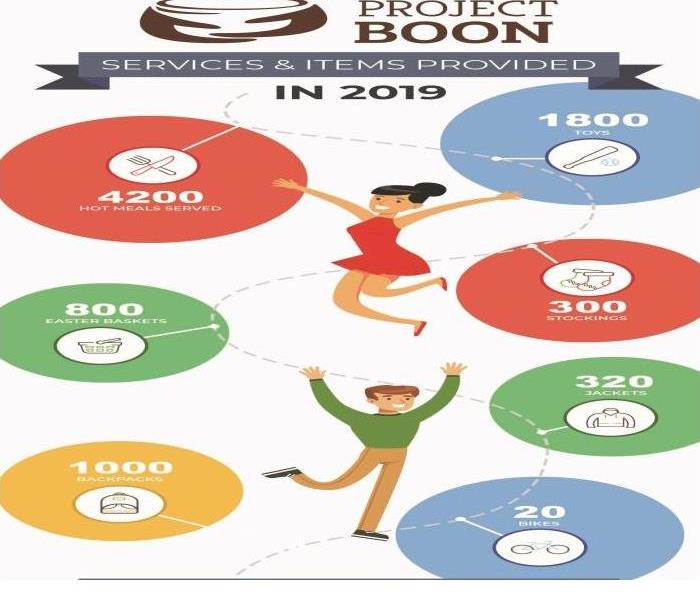 Project Boon operates events that bring together those in need, those willing to help, and the resources that make a difference.
Project Boon amplifies the power of community through events that bring together committed individuals, organizations, and the underserved.
Their name, boon, means the general good created by meaningful, accessible action. It comes out of a simple idea: that we're all connected, and we all have the ability to help one another.
About Project Boon
Project Boon, a 501(c)(3) nonprofit organization, is based in Rancho Cucamonga, California. As found on their website, They act as the organizing force behind a host of events every year, and while assisting the underserved is one of their primary achievements, they are also proud to:
Show people the power they have to change the lives of others and how to use this knowledge.
Offer a meaningful experience to the beneficiaries, participants, donors, and sponsors of events and create a lasting sense of community following these events.
Engage professionals, executives, and companies, demonstrating the human impact of their business contributions.
Why Project Boon?
Project Boon operates events that bring together those in need, those willing to help, and the resources that make a difference.
When we were children, the neighborhood pulled together when a family down the street faced tough times. Our community made an immediate impact, and we knew the human connection.
Now, our mission is to help people connect with and rediscover the community to which we all belong—next door or a world away—by supporting our neighbors in need.
Board Member Matt Frechette
I wanted to highlight Matt Frechette who is one of the board members of Project Boon. He is one of the many members who help support and run the initiative of Project Boon. Matthew Frechette is the Executive Vice President & co-founder of MyTPG and the founder of Be Intentional Inc. He loves to help protect and grow small businesses and individuals who want to live a life of abundance. He does this by having fun, making a difference, and being intentional. He helps protect businesses from the state, the IRS, and themselves and helps promote individuals. Matthew believes culture is very important in the workplace, community, and home. He has supported multiple charities and been a part of many charity boards. He sees Project Boon as an organization of leaders intentionally having fun and making a difference.
Back Pack Event & Grocery Distribution
Project Boon recently hosted a Back Pack Event and Grocery Distribution in July.
They teamed up with The Hitch Burger Grill, Hillside Community Church, Firm Media, and OmniTrans to host a drive-thru back-to-school backpack event and grocery distribution for underserved families in Rancho Cucamonga and the surrounding areas. The event was held at The Hitch Burger Grill, in Rancho Cucamonga on July 26. Each family had the opportunity to receive fresh groceries, and school children were provided with backpacks filled with school supplies.
The event was on a first-come, first-serve, and they asked that attendees not line up early. Each family could receive one bag of groceries, and each child was given one filled backpack, with a maximum of two per car.
Project Boon received support for the effort by accepting donations of school supplies that could be dropped off at specific locations. Some of the items donated included:
Backpacks for young boys and girls and older teens
Pencils, pens, markers
Pencil boxes
Paper & notebooks
Rulers
Glue
Binders & folders
One Business, Propel Chiropractic was able to contribute 90 filled backpacks to families in need!
Project Boon was able to accomplish this successful event with the help of many supporters. Because of the generosity of the community, they distributed backpacks to 600+ students and provided groceries to 300+ families. Cars lined up for miles, and they were able to serve everyone who joined. Check out their social media post within Facebook.
please visit the Project Boon website at www.projectboon.org for more information on how to donate or get involved in future events.
SERVPRO of West Riverside City encourages all to look to support a non-profit organization. We highlighted two with Clear the Shelters and Project Boon, but there are many nonprofit organizations. Through nonprofits, awareness, research, and aid reach the people who need it most. Nonprofits also produce tremendous benefits to their surrounding communities and the broader world. Take some time to learn more about nonprofits. Understanding that the funding for these organizations often satisfies more than the mission statement will help us see the benefits of supporting nonprofit organizations.